The beauty of getting this food blog is to explore different food escapade to taste.  At the same time, I  also discovered cultures on how they vary their food from one place to another place.
Early last year, I find myself addicted as I go on and on discovering more food to taste.
Culprit?
When I had my yearly checkup last year,  my cholesterol level shoot up.   The result of my check-up would always be positive.   This is the first time I received this kind of result.
There were medicines recommended for intake but as much as possible, I have to do some actions – like taking time to do some exercise and play around with the taste instead thus lessening those food intake.
Living also outside the metro is a challenge because there were not much of a health and fitness gym around.  My last recourse was to jog in a park and get a DVD video where I can watch at home.
Luckily, I got to find this new website – The Century Tuna Superbods Challenge  (http://www.centurytuna.ph/superbodschallenge) that features daily diet and workout plan designed to show that everybody can be a Superbod.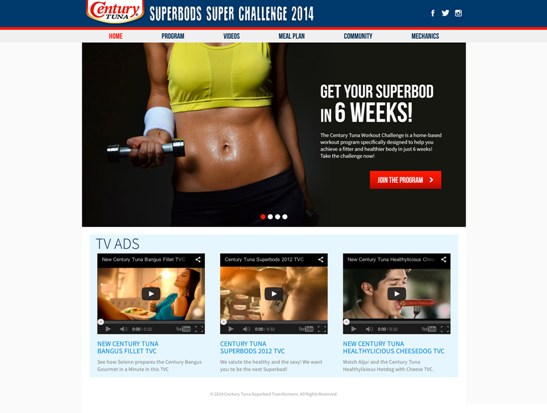 Since summer is also fast approaching, it can be a way to tone and be fit.  The website is an online portal featuring a daily diet and a workout plan.
Actually, I am not on sexy side of the body.  I am more on the healthy side, normalizing first and foremost my cholesterol level and to loose weight.   It would be a bonus if I will get those "Superbods" attentively following all those recommended health advices and meal to intake.
As I browse the website, it has two main components:
Meal Plan by top dietitian Nadine Tengco
On the Meal Plan page, Nadine shared recipes – some of which include Century Tuna products – that everyone can follow.
Ms. Nadine is a US-certified fitness nutritionist who designed the Detox-in-a-Bottle. Initially developed in 2009 for her celebrity clients, the program became hugely popular. The soups and juices had since been standardized and are now being prepared by her partners and distributors.
Workout Plan by Coach Jim Saret.
On the Workout Plan page, Coach Jim Saret will upload his 6-week workout challenge schedule, which combines aerobic, cardiovascular, weight training, and stretching exercises, among others.
Coach Jim is the founder and training director of APEX (Athletic Performance Enhancement) Sports Training. A former National Athlete, he completed his Master's Degree in Sports Medicine/Athletic Training at Brigham Young University in the United States. While in the US, he worked with elite olympic athletes, professional athletes, world-class sports science/sports medicine specialists and training centers.
The meal plan suggested is also practical and easy on the budget. Best part, it will also teach how you will prepare each menu.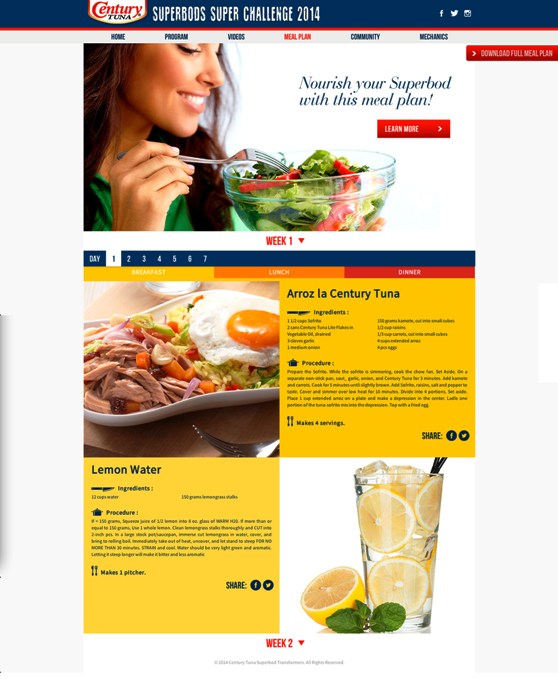 For Coach Jim Saret, I have already tried his metafit program last two years ago. Based on continuous practice on the 4-minute suggested exercise once a day, it was effective that I lost almost 5 pounds in a month.
The launch also of the My Road to Superbods website is a run-up to the Century Tuna Superbods Super Challenge that will be held on April 25-27, 2014 in Boracay.
For this competition, Century Tuna gathers males and females between 18 to 35 years old with a fit and healthy body and passion for healthy lifestyle. Celebrities also flock to the event, which promises fun activities, parties, freebies and treats for beach lovers.
With the commitment of Century Tuna, the aim of the website is more on transformation not only giving a healthy and delicious meal.  It will become more meaningful if one can transform for making it possible to become fit and healthy at the same time.
I am in the process of following it everyday like detoxyfying as in drinking water with those lemon, boiled saging n saba and sweet corn whenever I feel hungry with the lunch / dinner suggested.
Hopefully, I can religiously do this not only to become a "SuperBod" but a road to be in good shape.
Do join me for us to see the result.
For more information, visit their website: http://www.centurytuna.ph/superbodschallenge