The best gift you can give this Christmas is your time.
Kicked off my weekend by volunteer work to clean and prepare donated toys w/ Jollibee #MaagangPasko and #Breeze. This would make old toys to good as new before they be given.
As an I.T. Consultant, the peak months of working would be November and December where we have to wrapped up all the projects for the year-end.  Part of it was also to do training activities during the weekend.  I was used to it as I was doing it every year.  Christmas is also a busy part not only celebrating but work overload also.
When an invite came in for  "1 Laba Day@Maaga ang Pasko Clean Up" where we will be assisting to clean toys and books to be given to the beneficiaries, what I did was to advance all the preparation of my training materials, crammed Friday evening up to 2am to make sure I can attend.
Why?  Actually, I can say "NO", I'm not available and can can give my regards for the success of the activity.  Still, I can make time if I want to, it is still under my control.  It is just how I manage my time.
When we arrived in Mandaluyong City,  toys were all around and volunteers were busy already cleaning all the toys.
Jollibee is all set to make Christmas a bigger and brighter celebration for children nationwide.  Helping the fast-food chain on this mission is Breeze, which has officially signed up as the official detergent partner co-presenting the clean-up phase of the campaign.
The two brands also tapped celebrity moms Regine Tolentino, Bettina Carlos and Breeze's Sige Mom Christine Bersola Babao, to lead the army of moms volunteering as Jolly Toy Scouts.
Together with mommy bloggers, as well as official and volunteers from both brands, working as one family to clean and prepare the donated gifts.
Since this was an early morning event, we were served Jollibee Pancake Sandwich for breakfast.  This was also my first time to taste it which I am ignoring for the long time.   Dammn, it tasted good!   The sunny side-up egg, melted cheese and crispy bacon  enveloped with two pancakes to hold it make it soo succulent that I snag another sandwich to fill up my hungry stomach.  I'm a breakfast person after all and putting this Pancake Sandwich on my tab would be an extra delight in the morning.
You know I was satisfied with my meal if you see me smiling, ready for cleaning up especially when I saw Jollibee who also visited us on that day of cleaning up.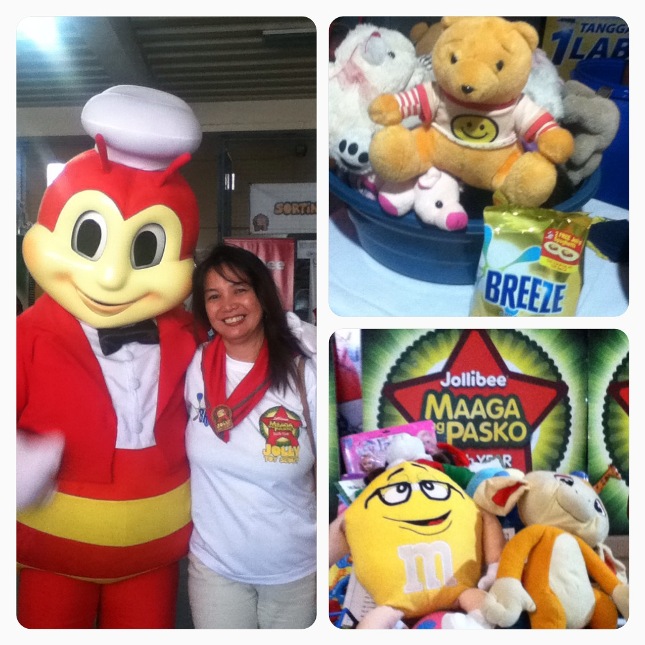 Together, Jollibee and Breeze are targeting to wash and clean more than 500,000 plush toy donations with the Breeze with ActivBleach. With its 1 Laba Guarantee owing to its revolutionary formula, Breeze transforms the old toys to good as new before they are delivered to beneficiaries.
In addition, Breeze has donated a complete array of cleaning materials and committed to help Jollibee collect more books and toys by placing Maaga ang Pasko boxes in Unilever offices, encouraging employees to donate.
As Jollibee Vice President for Marketing Harvey Ong said:
"As Maaga ang Pasko celebrates its 20th year, Jollibee wants to further strengthen its commitment to make Christmas even brighter for more kids and rally more families, led by hardworking moms, to make this happen. We're happy to partner with a brand whose values are the same as ours," said .  With the support of a well-loved brand like Breeze, we are confident that the campaign can grow and expand even more in the years to come."
Unilever Vice President for Foods and Home Care Benjie Yap said:
"They are privileged to help out in this year's Maaga ang Pasko by making sure that the toys are clean and smell fresh before they are given to their new owners. With its tough-on-stain formula, Breeze also makes it easier for our Maaga ang Pasko clean-up volunteers to remove dirt and stains from toys in just one wash."
Luckily, I made really a great choice to celebrate more a meaningful Christmas and be a part of the Maaga ang Pasko campaign.   I was worried will be attack by asthma considering the dust around but was not.  Even it was an exhilarating activity and have work after the event, gladness and inner happiness rooted to my heart.
I think I made a good decision.  No amount of money or material things can equal if one can give herself what is important commodity and that is time.  Thanks, thanks Jollibee and Breeze for the noble cause.
To those who are still interested, aside from dropping donations in Maaga ang Pasko boxes in Jollibee stores nationwide, anyone can also take part in the campaign by making online donations at www.jollibee.com.ph/MaagaAngPasko.