Auntie Anne's Kit Kat Wind-Upz upgrade the  snacking experience.
Pretzels was introduced to us by my hubby as this is hubby's favorite snack at all time.  He even bought it by packs to chew around everytime he was in the house cooling down.
One of his favorite pretzel brand is Auntie Annie's which I also agree.  They are soft and freshly baked getting those golden brown color to make it irresistible to munch.
Lately, I was surprised that my daughter already asked me some treats and told me to bring home those pretzels unlike the usual donuts and cupcakes she always asked us.  This is only means she likes it already.
I bought four (4) flavors for them to choose – the Original, Cinnamon, Sweet Almond and Sour Cream.  Hubby would always stick to Original flavor – the flavor he cannot get over even there were already lot of varieties to choose.
As the holiday kicks off, Auntie Anne's welcomes another new product that would match made in Pretzel Heaven, the Wind-Upz, raising the standards of snacking even more better.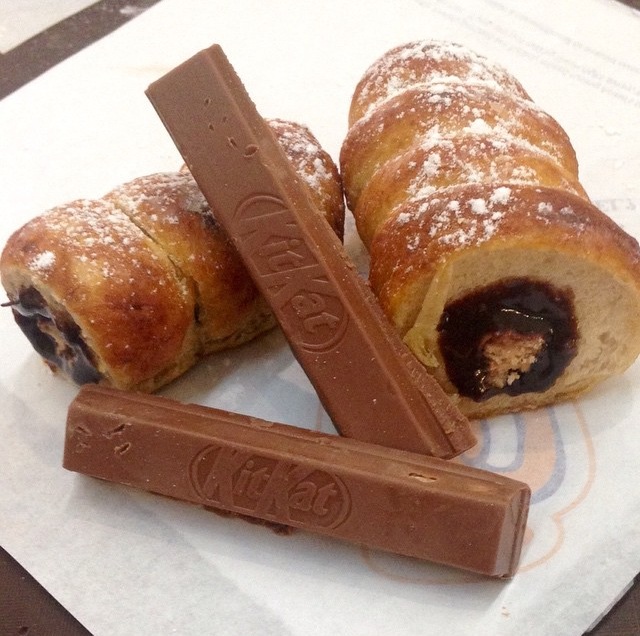 The most loved Pretzel brand, Auntie Anne's, partnered with Kit Kat to bring the Wind-Upz. The Wind-Upz are Kit Kat wafers wrapped in Auntie Anne's signature pretzel dough.
While ordering, I have watched the crew how they personally hand-rolled those delicious dough, wrapping inside the Kit-Kat wafer and finally twisting it.
Do I have the chance to taste it? Definitely!   Even it was still hot in the oven, I grabbed it,  getting those freshly baked smell, taking a break I need to taste the mouth-watering treat.
The Wind-Upz has an affordable price of P 79.00 and only available this holidays  in all Auntie Anne's branches across Metro Manila, Baguio, Cebu and Davao.
For more information, visit their:
Facebook Page:  https://www.facebook.com/AuntieAnnesPretzelsPH
Instagram: http://instagram.com/auntieannesphl