Getting in the routine for almost 3 weeks of putting healthy food intake, I am quite use to it. When I caught myself nowhere to get those dietary breakfast together with fruits and veggies, what I did was to rushed up to Starbucks to check those healthy food available.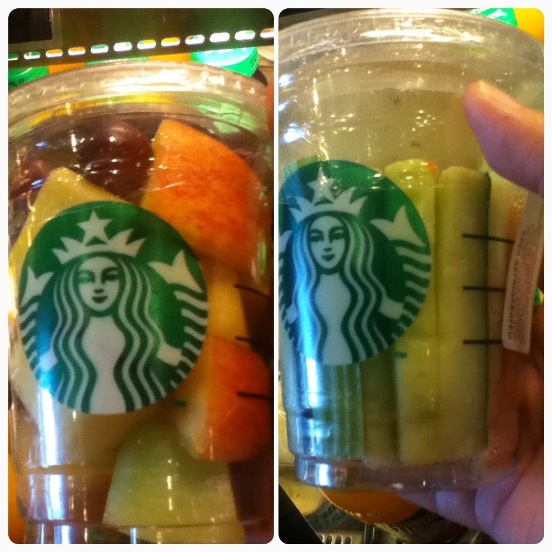 I think last night then, I slept late.  Eventually, I woke up really, really late in the morning as I found myself arriving at the office craving for something sweet for breakfast.
At that early morning, I have always these two choices of frap that I ordered at Starbucks – one is the mocha and the other one is the green tea.  This picture was taken when me and my girls got to choose our own drink.
Nah, I was not looking then with frap at that morning.   Would like to skip those cream at the top even green tea is a healthy choice.
Best part, when I was looking at their food glass selection, I got to grab Oatmeal instead.
I think I have shared to you how I change my dessert into oatmeal topped with raisins and strawberries drizzled with honey and milk with this post.  After my post,  I have a full container of oatmeal and glass of raisins.  I just have to stock fresh / almond milk and honey as family members always intake it.
With Starbucks old-fashioned rolled oats,   there are options to choose:
instead of pouring out hot water with it, one can choose to mix it with milk.
instead of brown sugar, agave syrup can be a replacement
Agave tastes like honey syrup while the mixed dried fruits combination gave those overall sweet and tangy taste.  They were generous with the milk which is almost the small size of  coffee that makes the oatmeal  more creamy to taste as I poured them all to fill in the container.
Whole Grain Oatmeal P 85.00
Have grabbed also Veggie Sticks in a cup for snack that contains carrots, celery, cucumber and jicama freshly prepared and crispy to taste that can be dip in blue cheese dressing.
Veggie Sticks with Blue Cheese Dressing (₱110)
Great tasting  fresh fruit mix which is like a full of rainbow in a cup.  I chill them first before I ate them, putting them in a bowl and taste them in combination like grapes and apple to get those sour, sweet, tangy taste all in one bite.
Fruit Cup, P 95.00
To tell you honestly, those servings is not that enough for me but definitely I am satisfied.  It is just that I am person who really like to munch every now and then especially if I am already infront of the screen.  These are like my finger food.  Next time, would really find time to prepare my own set of meal.
Eating well is living well which made those simple intake rich in goodness and nutrition.
Good to know that eating in Starbucks can have an alternative to be healthy.  I love also  their sandwiches which I ate whenever we set our meetings either in the morning or lunch like chicken pesto and tuna cheese.  Given time, I will also compile those sandwiches and share it here.
For more information, visit their:
Website:  http://www.starbucks.ph/
Facebook Page: https://www.facebook.com/StarbucksPhilippines
Instagram Account: http://instagram.com/officialstarbucksph#