Enjoy free Cheeseburger coupon by downloading McDo PH App.
This long weekend, satisfy your sudden Mcdo cravings for additional exciting freebie when you do a McDelivery transactions.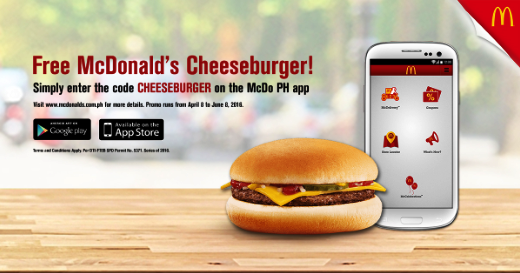 Enjoy a free Cheeseburger coupon by downloading the McDo PH App and signing up for an account.
Full Promo Mechanics:
1. Promo is ongoing until June 8, 2016.
2. The new user must download the McDo PH app, which can be downloaded from the App Store
(for iOS users) and Play Store (for Android users)
3. The New User may enter the CHEESEBURGER promo code after successfully signing up.
4. Entering of the CHEESEBURGER promo code will be a one-time event only—upon registration,
and if process is skipped, user can no longer enter the promo code.
5. Once the promo code has been successfully entered, the new user will be rewarded a Free
Cheeseburger Coupon which will be located in the Coupons page of the app.
6. To claim free cheeseburger, user must add the coupon in his cart through the app.
For more information:
https://mcdonalds.com.ph/content/page/free_cheeseburger_for_app_registration