Cordon Bleu, Chicken / Ham Soup and Chowfan Rice as I put Jolly mushroom to each one to make it enticing and healthy intake for the family.
If we have 3-in-1 coffee, I have combine 3 meals in one can of Jolly Mushroom as I call it 3-in-one meal.
The intention is just to cook Cordon Bleu for the kids and what was also available in the fridge and grocery cabinet. That's how I found my stock of Jolly Mushrooms.
Anyway, since I'm longing for veggie to put something in our meal, I use the 115 grams of Jolly mushroom as part of the ingredient in Chicken Cordon Bleu.
Since mushroom is exposed to sunlight, naturally, it has Vitamin D which is good for the bones – a calcium absorption. From then, it is considered to be a powerful nutrients once you put it in every meal.
Rolling in a jelly fashion is exciting to all of us as I also let my two daughters assisted me in preparing this hearty meal.
Here is the output and I love how it turns out to be crispy yet a dash of health intake with mushroom inside made it a unique Cordon Bleu.
Sharing with you this easy-peasy recipe for Chicken Cordon Bleu with Mushroom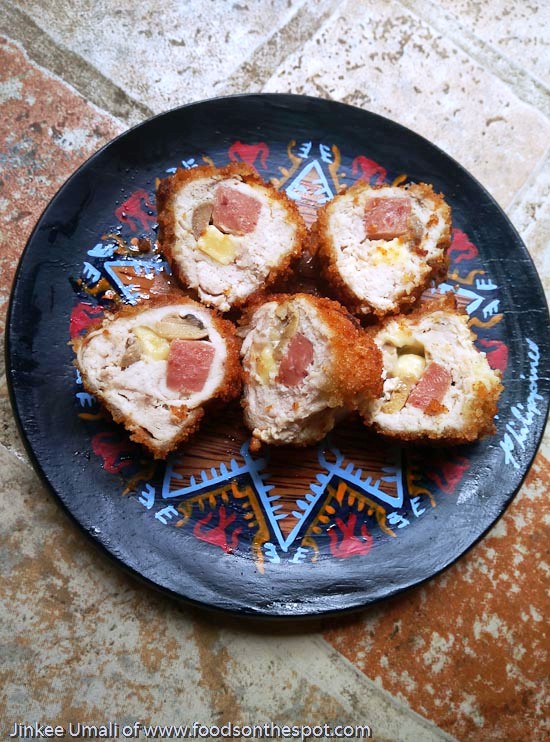 Chicken Cordon Bleu w/ Jolly Mushroom
2015-09-15 10:30:42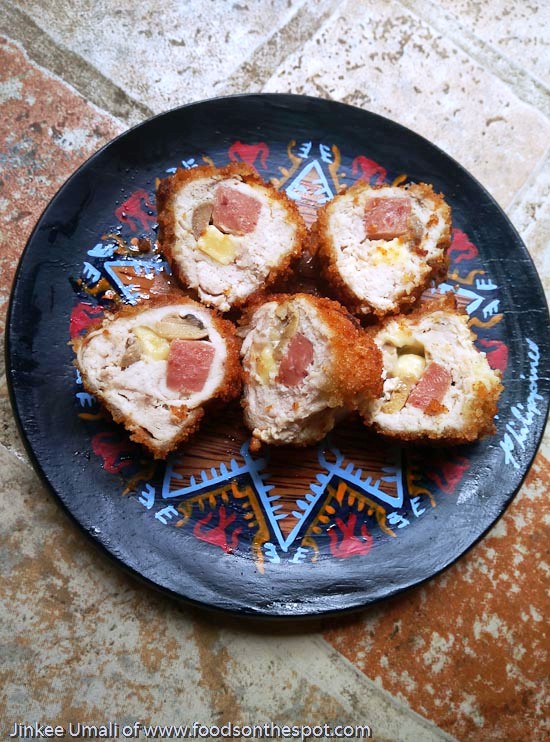 Ingredients
¼ cup each of All Purpose Flour and Japanese Bread Crumbs
Half Can of Jolly Mushroom (115 grams)
2 eggs beaten with 1 tbsp water
Half Kilo of Chicken Breast – Skin and Bones removed
Pinch Black Pepper
8 to 10 thin slices Quickmelt Cheese (make 8 thin slices per one – 185g Quickmelt Cheese)
8 thin slices Spam Original (make 8 thin slices per one can Spam)
Instructions
Pound Chicken Breast both sides until thin, making sure not to break it.
Cut into 2 lengthwise. Sprinkle with Pepper.
Put a tablespoon of flour on chopping board.
Put chicken, wide side nearest your body.
Arrange cheese slices on top, leaving a one inch empty space on top side.
Top cheese with Jolly Mushroom and Spam.
Flour your hands.
Fold sides, then top, and roll as tightly as possible, jelly roll fashion.
Dip in flour, then egg, then breadcrumbs.
You can put in freezer for 30 minutes.
Heat oil to 400˚F or when tested with a wooden chopstick many bubbles appear around the stick. Lower fire to medium and cook it for 6 minutes.
Put fire to low and cook 3 minutes more and then drain.
Foods on the Spot - Food Blog by Jinkee Umali http://foodsonthespot.com/


Still, since there are left ham and mushroom, what we did was to cook Chicken Soup which I use the bones for the broth that was removed from the chicken. Healthy result that family got to sip in this comfort food partnered with Cordon Bleu.
Here is the recipe for Chicken / Ham Soup with Mushroom.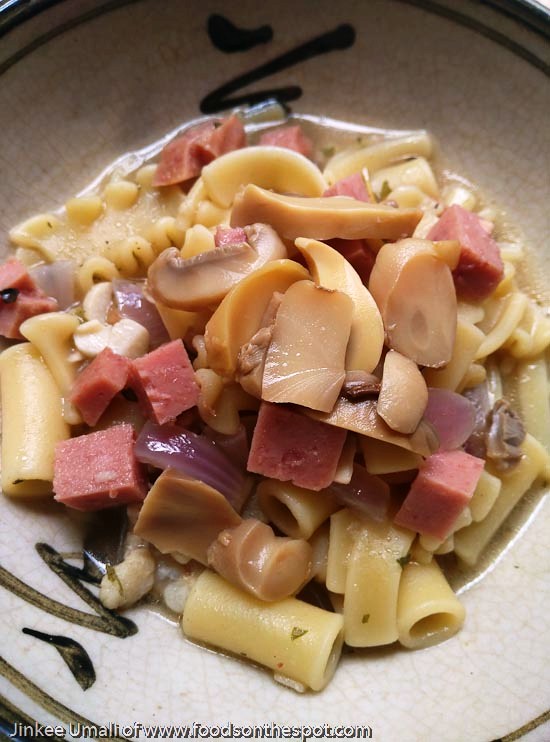 Chicken and Ham Soup w/ Jolly Mushroom
2015-09-15 12:27:15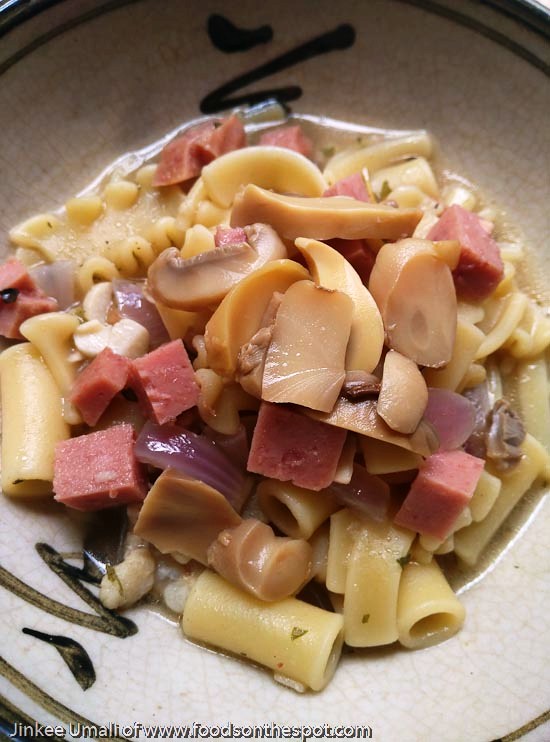 Ingredients
chopped garlic
1 medium onion, minced
½ lb macaroni
One-Fourth can of Jolly Mushroom (115 grams can)
1 tablespoon cooking oi
4 cups chicken broth
6 cups water
1 cup fresh milk or evaporated milk
Salt and pepper to taste
Instructions
Bring water to a boil.
Add the chicken bones. The chicken bones are the one I got from the chicken breast when I did Cordon Bleu.
Boil the chicken bones in low to medium heat for 15-20 minutes.
Heat the cooking pan then pour in oil. Saute garlic and onion.
Pour in the sauteed garlic and onion in the pan where you cook the broth.
Add the macaroni and cook until tender.
Add salt and pepper to taste.
Transfer it to serving bowl and pour in the milk
Top it with mushroom.
Foods on the Spot - Food Blog by Jinkee Umali http://foodsonthespot.com/
We also added the mushroom to Chowfan Rice aside from the egg and mixed vegetables.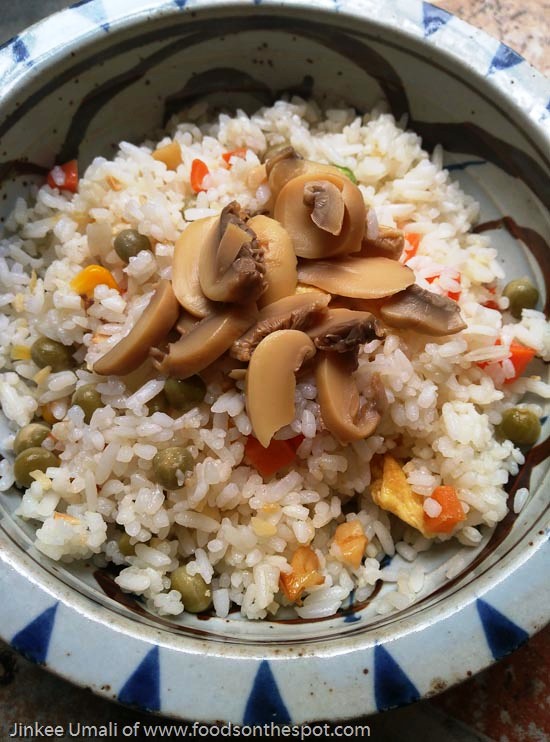 Chow Fan Rice w/ Jolly Mushroom
2015-09-15 11:22:59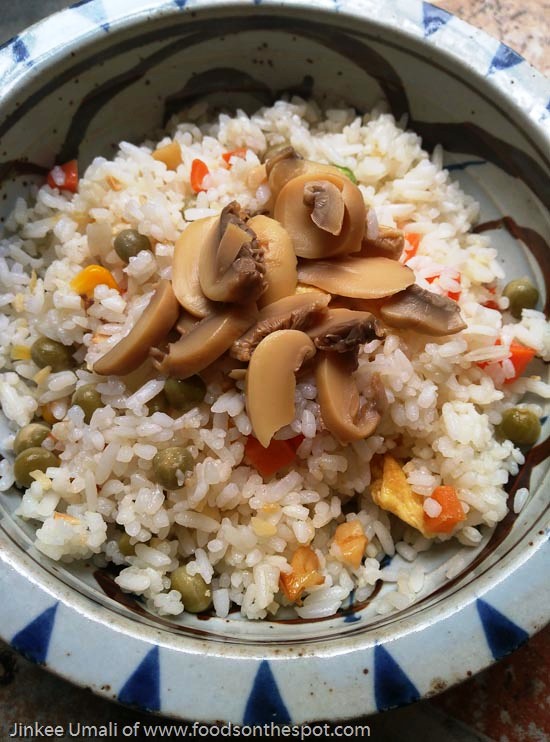 Ingredients
5 cups cooked white rice
1 teaspoon salt
Half Cup of Mixed Vegetables
One Fourth Can of Jolly Mushroom (115 grams can)
2 pieces raw eggs, beaten
3 tablespoons Star Margarine
Instructions
Heat Star Margarine.
Add beaten eggs. Once cook, remove it and chop it.
Sauté the garlic.
Add the rice and mix well.
Mix the other ingredients like mixed vegetables and mushrooms
Cook for 3 minutes.
Add the shredded egg and mix it with salt.
Turn the heat off and transfer to a serving plate.
Foods on the Spot - Food Blog by Jinkee Umali http://foodsonthespot.com/
Lazy Sunday turns out to be a fresh intake yet productive for the family that made our cooking a bonding moments for us.
Definitely, excited to try other Jolly products in the near future and will share those recipe of happiness.
Till next!
For more exciting recipe and promo, visit their:
Facebook Page: https://www.facebook.com/JollyFoods
Twitter and Instagram Account: @jollyeatsph