Time to get your hands dirty with Yabu – Hire Katsu Burger and Ebi Katsu Burger, served with choice of Furikake French Fries or Chicken Salad on the side.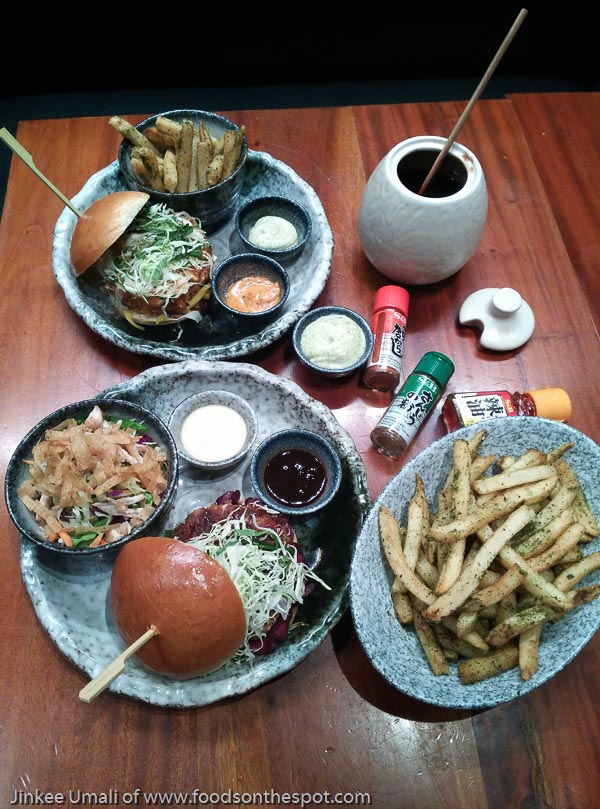 I have been thru with Yabu Megamall and Glorietta branch when we were looking for something to indulge after we wrapped up the training. Sad to say, I was not able to post it here as my students started to dig in as in fast as they can when the serving got to our table. Taking a picture would not be possible.
Maybe that was how they were soo hungry after the training activities. Definitely, serving for each one of us were enormous – unlimited from rice, miso soup, cabbage, fruits and the star, their tonkatsu and katsu set. They maximized it especially the rice. Me, I go for miso soup and cabbage while I play around to mix it with their different sauce.
I always go for the Mixed Katsu Set – their Hire and seafood katsu selection.
Anyway, it was nice to come back again and what more, to try their new dishes – burgers.
What I did was to invite also hubby with me since he is a certified burger lover.
While waiting, we munch with these side dishes, Wakame (seaweed salad) and Iidako (baby octopus salad) which were refreshing in taste.
//embedr.flickr.com/assets/client-code.jsWhen burgers were served to us, I crossed over to our table relinquish the taste a portion of it bite after bite.
//embedr.flickr.com/assets/client-code.js
The verdict?
For me, I highly recommended Ebi Katsu Burger. Yes, the same with their katsu meal set, it was too filling.
Those stuffed is enveloped with lot, as in lot of chunks of Black Tiger prawns. Fresh shredded cabbage, shiso leaves, Japanese pickles, spicy aioli and caramelized onion jam in a toasted brioche bun made this burger too healthy to indulge in one seating.
There were times I have to rest as I finished the half of it and drool again for another half.
//embedr.flickr.com/assets/client-code.jsThe Hire Katsu Burger is soo rich in thickness as how their tonkatsu taste as always – juicy and crunchy.
Sometimes I expect that it would be too oily for a bite that would drench to the buns, but its not.
In between of those shredded cabbage, pickles, onions – still the whole gastronomy taste is very visible once you start grabbing it with both hands.
Hire Katsu Burger – P 360.00//embedr.flickr.com/assets/client-code.js
For the side dishes, I go for Chicken Salad while hubby is more on the Furikake French Fries.
//embedr.flickr.com/assets/client-code.js
As of this writing, I'm craving now for Ebi Burger. Now I have a reason to really come back.
By the way, the Yabu katsu burgers are available for a limited time only, make sure not to miss it. ‪
For more information, check their:
Website: http://yabu.ph/
Facebook Page: https://www.facebook.com/yabuhouseofkatsu
Peeeee….. Eeeeesssss…..
Here is the closer look of those burgers in case you like to see the inside to it – expect when you started to divulge with it.