Right ambiance and the healthy food served plus the price is affordable, definitely Tien Ma suited to my kind of style and to the diners around who simply love comfort food.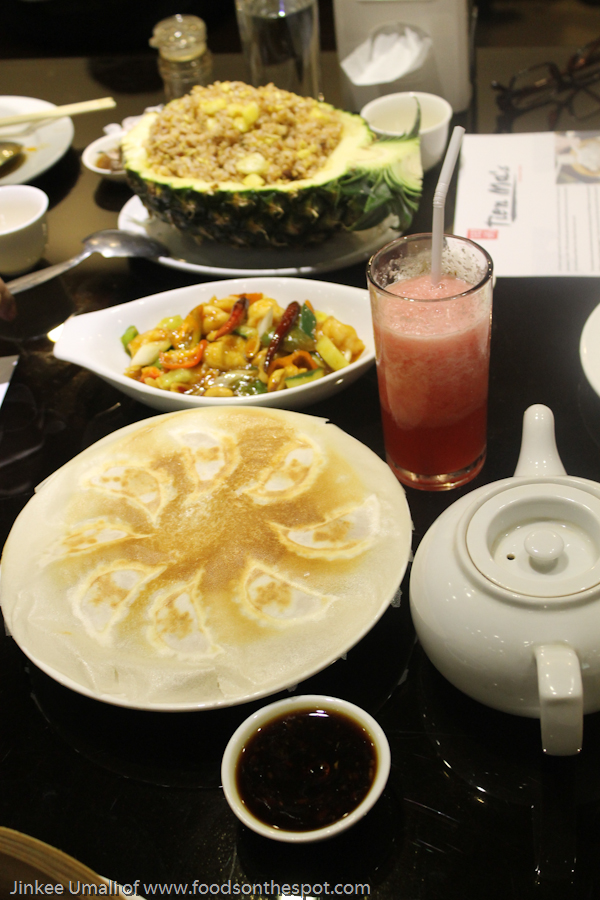 My haunt to healthy food led me to love the taste aside from the nutritional value that I got everytime I dine out. Quest of being not only a foodie but loving how to cook and prepare for family and friends would always be a priority.
When an invite came by that was far in my radar for a food escapade, have accepted it. Because I know that eating a good cuisine would discover me an appreciation to nourish an invigorating intake.
Tien Ma is located in D. Tuazon. I vividly remembered this location as a fave place of my relatives especially grandparents who took always a time-out once a week to taste authentic Chinese cuisine. If not dining in, they usually bought us siomai and siopao for a treat.
//embedr.flickr.com/assets/client-code.jsWith a wooden, black and white feel of the interior, it's a pleasant yet spacious atmosphere once you enter inside – a recreational feeling of tranquility that promotes harmony and cleanliness.
//embedr.flickr.com/assets/client-code.js
//embedr.flickr.com/assets/client-code.jsFor appetizers, Tofu with Century Egg is simple yet fresh start notwithstanding that this bean curd is steam yet versatile on its own.
Mild flavor yet its soft and velvety in texture.
//embedr.flickr.com/assets/client-code.js
Considered one of the best street foods in Binondo, Stinky Tofu would always be my choice of treat everytime I go out afterlunch and grab a lot of it as substitute to chips. Glad to see it here as part of the serving.
Not oily and very firm that made the crackling sound more irresistible that you will take again and again.
//embedr.flickr.com/assets/client-code.jsThe Pan-Fried Pork and Shrimp Dumplings are adored combination – crispy on both side making each piece a fascinating affair intake.
Watermelon Shake on the side has a thick, creamy and refreshing texture.
Light and thirst quenching as I'm missing summer now when I started to sip it.
//embedr.flickr.com/assets/client-code.jsBeef Noodle Soup would always be a comfort food on its own – authentic texture yet flavorful that made the chunks of beef tender and divine noodles soothed the appetite. The steaming yet rich broth is a nutritious hands down meal.
//embedr.flickr.com/assets/client-code.js
//embedr.flickr.com/assets/client-code.js
I think I have enough because I was fully satisfied. Still the main meal is not yet served. Once the Pineapple Fried Rice delivered to our table, one can eat it on its own without the viand. Pineapple chunks are visible that made this fruity meal a healthier choice.
Sweet flavors of the pineapple seals in and leaves the natural taste that made it a succulent flavorful rice.
//embedr.flickr.com/assets/client-code.js
This stirred fried veggies and seafood serving is not overcook that made a gleaming fusion of flourished nutrition.
Ending our meal with this sexy fruit as they serve to us this Poached Pear in Red Wine – right balance of acidity yet the sweetness is still visible.
Every spoonful of it leave a melt-in-your-mouth taste and an indulge for more is not sinful since its a fruit dessert.
Mantou with Condensed Milk or Chinese Steamed Buns are plain but the moist taste made it a crispy intake. Making this a golden color is absolutely making these buns cook it right.
To make it more decadent, dip it in condensed milk.
As the night getting closer, guests around fill out the whole area considering this hole-in-the-wall new restaurant recently opened in less than a year. Maybe word of mouth has proven to be the trusted form of marketing that has a positive impact to Tien Ma's credibility.
Overall, a memorable dining experience is what I really like to eat that becomes a gastronomic adventure.
I don't mind really coming too far – from ambiance to the taste of food, definitely the attempt to be profitable and be of service to the guest would be long term impact once they maintained this kind of services.
Location: 168 D. Tuazon St. Corner N.S. Amoranto Avenue, Quezon City Opens from 10 AM to 11 PM daily
Facebook Page: https://www.facebook.com/tienmastaiwanesecuisine
Peee……Essss….
Since this area is near to my relatives, we went there last Father's Day to relinquish and celebrate with us thus introducing to them Tien Ma's finest cuisine which is also a good source of healthy food. Like us, they also love the place.
//embedr.flickr.com/assets/client-code.js