Every week, I make it a point to detox even for one day.   I don't know if I am craving for it but definitely I love all the goodness that I am putting to my body for the first month that I switch to juicing.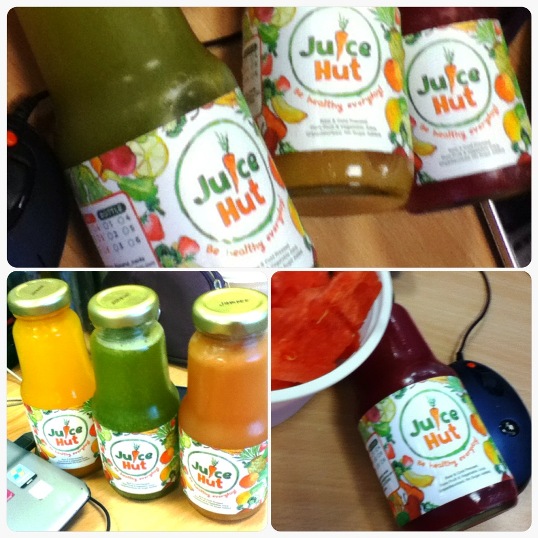 While still browsing and looking via social media for juice brands that I can try, I came to across Juice Hut Manila via Instagram.
When I send SMS for inquiry, the Juice Hut team replied ASAP and give me more details in my email.  It was structured in a way that all informative guidelines are there for you to read – importance of detox, menu and how to process the order.
Best part, the said juice team has several pick-up points along business area like Makati and BGC which  one can bought it per piece.  Metro Manila delivery is also available with a minimal fee for 6 bottles.
The price per bottle is more affordable for P 120.00 compared to other juices that I tried.  The best part, the combination of the flavors is a must-try.  It is just like I am eating a rainbow of  nutritious fruits and vegetable in one bottle at my workplace.
At first, it is not that easy for me to pick up my 6 bottles for one day detox as I find all those 17 menu enticing to taste.
Anyway, I have to made up my mind – an equal 2 combinations of green, orange and red.
Following are the flavors I ordered:
Green
Green Goodness
Veggie Medley
Orange
Cold Buster Orange
Orange Broccoli
Red
Strawberry Delight
Revitalizing Red
Here is my routine – greens are my lunch and dinner.  The orange and red are my breakfast and snacks in between.
I received my juices really cold which is perfect for summer and tightly cup.  I still have to asked someone from our office to twist it for me to open.
Most of the juices are soo thick which made me think that this is almost pure like no additional water added.  What I did is to drink a lot of water preferably lukewarm in between which is also advisable when one is starting to juice-up.
At first, Revitalizing Red and Strawberry Delight is flavorful and too sweet with my taste palette .  This is possible if the fruits use like apple is also that sweet.
Sorry, I can't help to munch something that I found watermelon to partner with this juice.  Colorful, indeed!
Maybe one can barely asked if the green juice taste good.  What I like with those green is all the nutritional flavor work together to make it a nice tasting juice.
I am excited with the Orange Broccoli and Cold Buster Orange – refreshing and delicious. The recipes used in this juice is tailored to be more pleasing to indulge which still provide the important nutrient from dark greens like broccoli.
Below are the Price List:

1-day reboot program  – P720
consists of 6 bottles (250ml) (max of 6 flavors)
2-day reboot program  – P1,440
consists of 12 bottles (250ml) (max of 9 flavors)
3-day reboot program – P2,160
consists of 18 bottles (250ml) (max of 9 flavors)
5-day reboot program  – P3,600
consists of 30 bottles (250ml)
Am I satisfied with my juicing already?
To tell you honestly, it is not fast but at least I am adding nutrient to my food intake.  I am still free to eat what I want.
For more than 30 days of doing this once in a while, there were many benefits that I got – discipline, portion control and really be mindful on what I am eating.  Like for example, between heavily processed food and fried foods,  I would choose more healthy alternative.
After I tried juicing, there's something special that would later affect the human body.  I become more leaner and healthier as my body crave for nutrients and minerals.
I am encouraging you to also experience it.  Anyway, this is our body afterall.  Who would take care of it, only us.  Ending my post with this inspiration about  loving your body.
For orders:
Viber /SMS  via: 0917.572.5855
Email via:  juicehut_manila@yahoo.com
For more information:
Facebook Account : https://www.facebook.com/JuiceHut.Manila
Instagram Account: http://instagram.com/juicehut_manila#