With Sam Concepcion cool and casual personality, this captures Chef's Noodle brand – a rising Korean resto that Filipinos learned to love.
Aside from TV host Grace Lee and couple Lloyd and Shamcey Supsup-Lee, Sam is the newest addition to the roster of celebrity endorsers that exudes a fresh and youthful vibe that is characteristic of Chef's Noodle.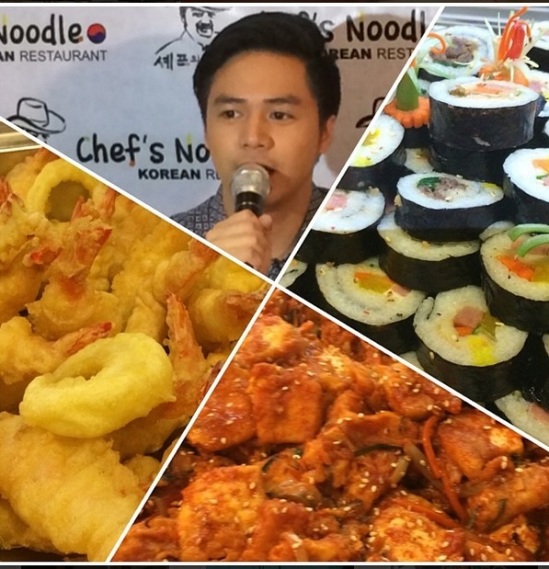 I , myself fell in love with Korean dishes which are really worth to crave for like Chapchae, Bibimbap and  Korean Beef Stew.  Me and hubby would always make time to eat out every time we anticipated there is a Korean restaurant near the area.
With Chef's Noodle offering a wide array of mouth-watering food choices crafted by award-winning Korean celebrity Chef Choi In Sun, the must-try menu items are Starking Fire Sushi, Bibimbap, Japchae, Haemul Seafood Pajun, Leek Shrimp Twigim, Chicken Kas and Spicy Dukbokki.
At the presscon, the media and bloggers were also fortunate to try some of them.
When we had the opportunity to visit their branch in Taft Avenue inside University Mall, we thought its a fine dining resto.  Yes, it has those set-up but the price is the same with a fastfood meal.
Hopefully, they can increase their branches more in the metro to cater the Filipino taste pallet thus loving those Korean cuisine not only knowing them as K-pop and telenovelas.
For more information, visit their:
Website: www.chefsnoodlephils.com
Facebook Page: www.facebook.com/chefsnoodlephils