Anticipating new month of April to be a blast of vacation getaway and summer fun.   Not for me for all these days but a weekend and some public holidays are already plotted in our schedule.
As I end the first day with those  spectacular sunset view on the glass window on our office here in the metro,  I am excited to prepare and pack my stuff for a workout.  Yes, while eating those healthy foods around, I am combining it with some fitness work-outs.
I have registered last April 1 at the Pure Jus Zumba Party at Amber Ultra Lounge, The Fort Taguig  where we will put those body on sweat for the whole night.
I love doing Zumba as this aerobic fitness featured movements inspired by various styles of Latin dance which can be incorporated to a modern hip dance. This is my first time to do a Zumbathon –  an extended  length of zumba  that is typically would last from 2 – 3 hours in length.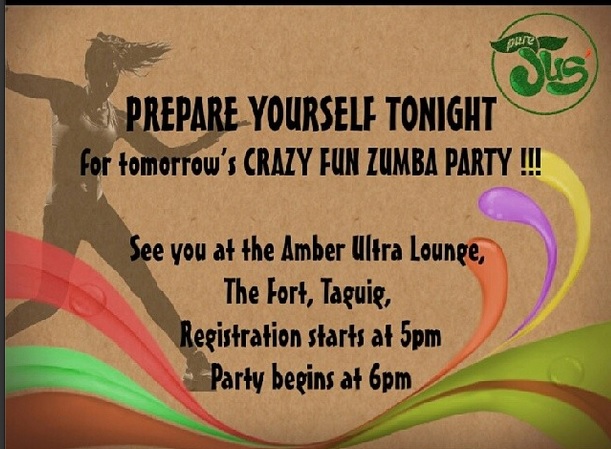 Organized by Pure Jus, its a great move to combine an advocacy of healthy lifestyle in juicing and at the same time getting to fitness work.
Who is Pure Jus?
Pure Jus are drinks made of 100% fresh fruits and vegetables. Their bottles are offering the best and tastiest juices made only from finest organic produce. No preservative. No added sugar. No added water. No fillers. Only pure juice love. They use state-of-the art cold-press juicers to retain the nutrients and vital enzymes found in fruits and vegetables. Then they bottled, seal, and deliver them fresh to the doorstep.
The whole area is packed of nearly 30 people seeking to shake our way to fitness.  Love the idea of not talking that much during the whole routine  and let the music inspire each one to move.  At the end, it tends us to feel happy and good at the same time.
My apology for those blurred pictures as I asked my colleague to take those pictures while we were dancing when she took a break then.
This is one sweat, all nite-out fitness event that challenge me to take Zumba to the whole new next level.  I know it's aching and catching those breath around is something I need to take those break.  Anyway, no pain, no gain.  This is doing some good to our body especially shredding those calories out.
Good thing, when I had a break, Pure Jus is there to boost up where one can choose flavors to drink.
I tried  the whole 350ml bottle in one gulp for  Red Miracle where ingredients are Beet Root, Pineapple, Carrots, Cucumber, Ginger and Kale.
Maybe that is how I was dehydrated after I took more than an hour of dancing as I also took two glasses of water.
I bought with me three flavors that is different to other juice flavors I tasted before.  They have varieties. These are:
White Nut –   Almond, Nut Milk, Chia Seeds and Vanilla Extract
Red Miracle – obvious this is my favorite after I tried it
Coffee Brownie – Arabica Coffee Beans, Almonds, Cocoa, Filtered Water, Stevia, Cinnamon
My bad.  I have substituted maybe another flavor like Brownie instead of taking Red Miracle again.
Good thing, they got this coffee flavored juice that skipped my coffee for the day.  I cannot get thru of munching  cereals on my office desk beside me.  Its a great partner afterall as  I combined it also with some fruits with me.
Yes, its true, the rave for social media how their juice is truly refreshing as I enjoyed it even in a span of 1 day.  When I woke up the other morning, I don't know my tummy is still very full and I feel lighter.
Overall,  this is what I noticed also compared to other juice I tried which I think I recommended to others who has this same juicing business:
Each bottle caps is plastic resealable and really air tight.
Consumable reminder that it has to intake within 72 hours and keep in cool is visible.
Detailed description of each bottle content together with the flavor
Got three orders of bottle in recyclable bag which make it presentable to handle
It was a bit hard for me to finish the 350ml bottle in one seating.  One bottle stayed for me in an hour more before I finally done with it.
Hopefully, they would offer a smaller size.  Compared also to other juice company, pricey for P 250.oo and one has to pick up the order at the Fort.  Other areas for deliver will have an extra charge.
Anyway, I am in the process also of assessing each juices that I tried to come up why it is too pricey:
Machines used preparing those ingredients are at a high cost
Other vegetables / fruits used especially if its fresh in order to produce in a bottle would entail 1 kg of it or more.
When my colleagues saw me drinking it and have those price reactions, I just told them, I would rather take the juicing early rather than find myself one day doing some chemotheraphy or dialysis which cost millions just to be cured.
I am already in my almost two months of detoxifying of drinking juices and eating healthy food as much as possible.  Again, I am not in the process of dieting to become sexy and fabulous.  I just like to live healthy and as of now, this really matters to me.
Again, my congratulations to Pure Jus for setting up this worthy event.  I am anticipating more to come in the near future.
Here is their contact no. for orders – 09175853033.
For more information, visit their:
Website: http://www.pure-jus.com/
Facebook Page: https://www.facebook.com/purejus
Instagram: http://instagram.com/pure_jus