It's confirmed!  Max's Restaurant is the official restaurant of The Moonshine Jungle Tour: Bruno Mars Live in Manila concert on March 22, 2014, 8:00 pm at the Mall of Asia Arena in Pasay City.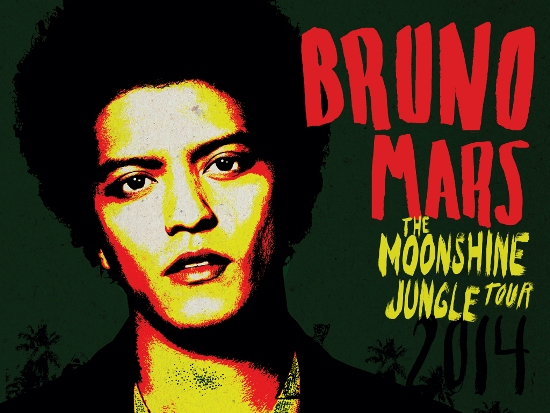 Bruno Mars, an international recording artist and two-time Grammy awardee is expected to draw in thousands of Filipino "brunofanatics" and concert enthusiasts.
A half-Filipino vocalist and born Peter Gene Hernandez, Bruno Mars grew up in a musical family. His father, Peter Hernandez, was a Latin percussionist while his Filipino mother, Bernadette "Bernie" San Pedro Baluyot, was a singer in Hawaii.
Mars wrote and performed music at a very young age and was exposed to a diverse mix of reggae, rock, hip hop and R&B music. He had his share of hurdles early on in his career, but his persistence to succeed and remarkable gift in music helped catapult him to worldwide fame. It was only a matter of time before he captured the world's attention after helping popularize hits like "Nothin on You" by B.o.B, and "Billionaire" by Travie McCoy.
Mars' much-awaited stop in Manila is part of his ongoing world tour to promote his second studio album, "Unorthodox Jukebox." Part of the proceeds from his concert will be donated to helping Yolanda victims.
Max Restaurant believes in showcasing the exceptional talent of Filipinos. As the official restaurant of his Moonshine Jungle concert – it is a combination of great music and a world-class food, an experience that Max's love to share with every Filipino.
Do you like to watch Bruno Mars for free on March 22?
Just 'like' Max's on Facebook and fill up the online entry form to win free concert tickets. Every day, one fan will be chosen to win 2 Moonshine Jungle tickets for free.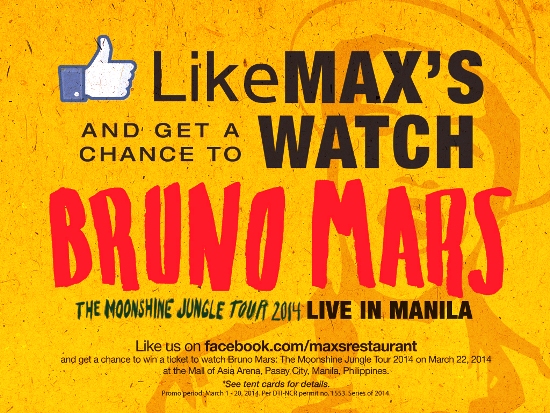 Here is the full mechanics:
Go to Max's Restaurant Facebook Fan Page, click on the Max's Bruno Mars Promo Facebook tab and register.
To participate in the lucky draw, you must like the fan page and completely fill up the form (with your Name, Address, Birthday, Contact # and Email Address) and click on the register button to submit 1 raffle promo.
Max's Restaurant will collect all entries and perform the lucky draw in the presence of a DTI Representative.
Max's Restaurant will announce winners daily from March 2 to 21, 2014 via Max's Restaurant Facebook Page (https://www.facebook.com/maxsrestaurant)  and direct contact via email, SMS and registered mail
Promo Date: March 1, 2014 – March 20, 2014 (20 Days).
For more information and updates, visit:
Website: www.maxschicken.com
Facebook Page: https://www.facebook.com/maxsrestaurant