Wingman is a sports bar located at The Collective

that served different flavors of chicken wings, 

burgers,  salad,  tacos, cold beer and cocktails.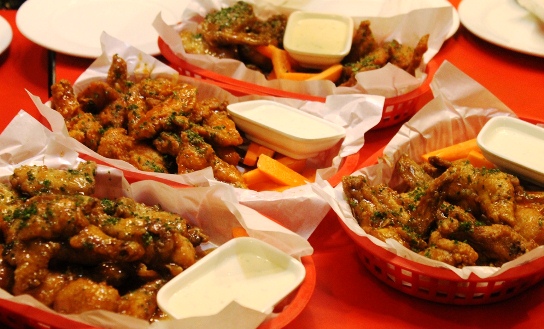 My week was a bit exhausted because of continuous techwork and training conduct that I have to attend to.  Happy problem I may say.  Still even my feet telling me to go home already, I headed myself to Wingman.
I always tell to my food posts that my always favorite would be chicken especially if the best parts are there like thigh and wings.
I was never disappointed that even I was tired then, I find myself indulging to those crispy delicious chicken wings which I never stopped getting those pieces one at a time.  I did not know if I was starving but I cannot resist to taste all those flavors.
Yes, their bestseller "Buffalo Classic"  is one of my favorites among those different flavors.  The whole taste is already infused with spiciness   A must try and the best part of it, one can choose the hotness flavor from medium, hot, apocalyptic or pinaka.
The carrot sticks and tangy sauce of ranch dressing on the side made it more delectable and healthy meal.
Price is Php 200.00 for the half dozen and Pph 330.00 for a dozen.    Take note that a dozen wings can be split into two flavors.  For a chicken lover meal like me, a dozen order is enough for chilling out.
Other Wingman wings served to us were Garlic Parmesan, Lemon Pepper, Honey Mustard, Hickory Barbeque,  Mango Barbeque Asian Invasion, Teriyaki, Morrocan Chermoula, Prairie Fire, Szechuan Peanut and Jamaican Jerk.
Another one I love most was the Honey Garlic flavor where I love the combination of sweetness and a touch of moisture.  Those kick of garlic all over do not overpower the taste at all.
Worth to try also for side pica were the curly fries, onion rings, potato wedges and those small burgers.
How I wish, I love to partner a cocktail  drink with those chicken wings just like our foodie friends who ordered Lemon and Strawberry Margarita.  Still, I have long way to travel and after that, have to work.
There would be another more next time as I already made my mind to come back again.
Thanking the owner Mr. Waldie  for inviting us  and Wazzup Pilipinas for arranging this foodie gathering.
Photos courtesy of  Joy http://gastronomybyjoy.com/ and Aldous http://aldousatetheworld.blogspot.com/
For more information, visit their Facebook page: https://www.facebook.com/wingmangrill
Location: The Collective, 7274 Malugay Street, 1212 Makati
Contact Details:  +632 478 6770
Store Opening/Closing Schedule:
Monday: 5:00 pm – 2:00 am
Tuesday to Thursday: 12:00 pm – 2:00 am
Friday to Saturday: 12:00 pm – 4:00 am
Sunday: 12:00 pm – 12:00 am