"When the world says, 'Give up,' Hope whispers, 'Try it one more time.'"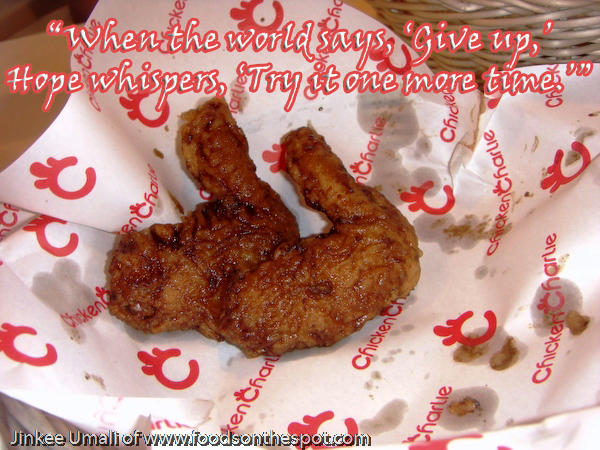 My first eating experience with Chicken Charlie was when I had a consultancy work in Cebu at I.T. Park as we have already exhausted most of the restaurant near the EBloc area. It was just new then and their very first branch in Cebu.
Anyway, me and my colleague love fried chicken eversince especially if its wings and thigh part. When we saw that Chicken Charlie was offering wings in an order, we grabbed it and did not even eat it with rice. Papak ang peg. LOL!
We found those wings small, dry and got those dark spots. Maybe it was fully deep fried that made it small. We ordered a value meal priced at P 115.00 composed of 3 wings and rice but literally it was just one a and a half wing because those wings were divided by two. Too pricey also.
We also ordered for fish and chips with the same set of feeling – sorry not that satisfied.
But then, that was my first impression. What I did was to try it again here in the metro at their Katipunan Branch. Anyway, Chicken Charlie deserves another one.
We ordered for 6pcs wing (Price P 175.00) and it was only then that they cooked it maybe too keep those crispiness and freshness.
It was also then that they explained to us that those chickens were double-fried and glazed by soy garlic sauce which made me realized that's why it made it small and got those dark spots when I tasted it in Cebu.
After I had my two pieces of wings, when our colleague ordered for another batch, I still grabbed for more. I was not that hungry that time but definitely, I now love those crackling taste and best thing no overpowered with its spices.
Another worth a try is the Charlie's Burger – huge pack of white chicken breast in a sandwich tastefully grilled for P 135.00.  This is more healthy I suppose compare to beef burger.  Those chicken fillet is huge, juicy and crispy.  Totally, a standout with those chicken sandwich!
In terms of ambiance and interiors, I like more their Katipunan branch which got more lightnings unlike with their Cebu branch.
It seems my quote was too exaggerating at first like those loosing hope or giving up.  LOL! I know I made a right decision to really give it a try for Chicken Charlie and I am fully satisfied.
Overall, I am fully contented with the chicken taste and will come back for more for their other branches here in the metro with the family.
For more information:
Website: http://chickencharlie.com.ph/
Facebook: https://www.facebook.com/chickencharliephilippines