I will surely fall for a boy who will buy me food.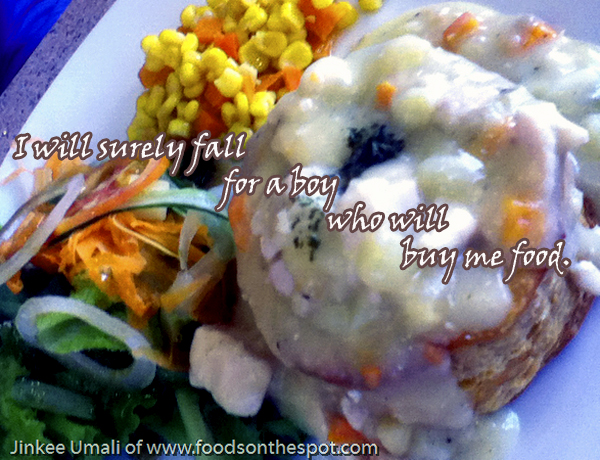 After my run, hubby invited me to stroll around to see a grocery store inside Nuvali 2. Actually, we did not proceed inside as he was delighted to see a big pretzel at Cafe France. I was looking at him and suddenly he sat down inside the cafe already.
What are you doing? I said. I want to eat, my treat! I am also craving for that Chicken a la King.
I have already took my breakfast then and I even did not bring my camera with me. Well anyway, I have my ITouch.  I can also explore to take some pictures and edit it here.  And since this was hubby's treat, who am I to refuse it.
While waiting for our order, we already took those big pretzels. According to hubby, this was ever since his favorite comfort food.
I am not fond of it, so hubby bought another one for me to taste it.   I thought those brown thing is a chocolate thinking it is the same Jack and Jill pretzel I knew then.  It was actually a twisted brown bread. Too filling for me but I ended up eating them all.
Actually, what intrigued me was the Hokkaido Cake that I saw in their menu offering that I asked hubby to add this in the order.
Hokkaido Cake is a chiffon based cake with vanilla filling inside.  It is fluffy and not that so sweet that I ended up tasting the whole with pleasures.
We cannot resist Chicken A La King with those puff pastry.  The servings of Cafe France is over-flowing with those rich cream chicken sauce together with those healthy veggies around.
I enjoyed this simple date with hubby.  Truly, he won always my heart by buying me those food as a treat and some bonding time together.
He also told me to reward myself after those hefty run along Nuvali park with Cafe France's food offering.  Definitely, the reward is fulfilling!
For more information, visit their facebook page –  http://www.facebook.com/CafeFrance