It was been a while that I was invited to watch live Sarap Diva – the new cooking show of Asia's Songbird Regine Velasquez-Alcasid.  It turned out that there were scheduled trips or consultancy work that I declined those invites then.
Last November 27, I gladly accepted the invitation as my schedule was open.  Even I was feverish at that time, I rushed off on GMA Studio to watch the taping live.
Sarap Diva show off  Regine Velasquez her love for food aside from being a singer, actress or a talk show host – a new yet latest TV endeavour that would show her prowess as a homemaker and sharing those simple cook to her viewers.
Maybe this what I love with this cooking show. I made it a point to stop what I am doing and watch during Saturdays at 9:40am where dishes are sooo simple yet practical for a working mom like me.
When I was on the set, I love also the experience seeing those technical personnel  painstakingly preparing the set before the show begins and do some rehearsals with the guest artist.
The guest at that time was Jaya where they prepared Chicken Inasal.
Even there were dialogue scripts infront to guide them, most of the interactions were ad-lib yet had those spontaneous talks.    For me, this is more ok as the show becomes more personal that made it light and lively to watch.
Sharing with you the Chicken Inasal they prepared during the show:
Chicken Inasal
Ingredients:
3 packs Lucky Me! NamNam 8g
1 tsp pepper
1/2 piece yellow ginger
1 kilo whole chicken, quartered
1 cup vinegar
Procedure:
In a huge container, mix Lucky Me! NamNam, pepper and ginger.
Rub the spice mixture into the chopped chicken until each piece is well coated.
Pour the vinegar and marinate for at least 2 hours.
Flip the chicken pieces to better absord all the flavors.
When ready to cook, one can use a charcoal grill but for this show, they use a smokeless grill.
Grill chicken pieces by pieces all the way through without burning the skin.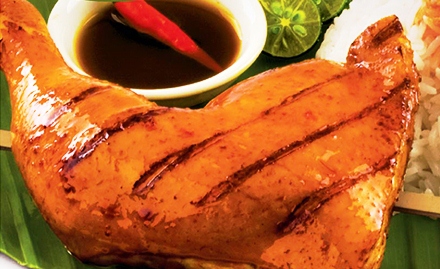 I don't have the chance to taste what they cooked but again the procedure of doing it is very practical and easy to prepare.
At the end, I realize it is not only just a "typical cooking show".  Its a complete engagement where host and guests can share those interesting and entertaining discussions from real-life experiences that surrounds from family, career and even their personal lives.
Sarap Diva is a one-hour program airs every Saturday, 9:40am at GMA Channel.
For more information on Sarap Diva updates, visit their:
Facebook Page: www.facebook.com/SarapDivaGMA