Makati Tourism Foundation Inc. aim to boost tourism profile as it launch the 1st HoReCa Makati Festival 2014 this Sept. 15 and 16 at Glorietta Activity Center making  Makati the "business tourism hub" of the country.
Even I am living already in the southern province like Laguna, I think I will be forever re-united in the metro where my relatives and friends are still always there with me. Especially, if my work call is in the business district like Makati area, still the joy of coming over will always be a pleasure because unitl now, I am still amazed on the food discoveries that I rekindled to try and savor with it.
When I bumped Ms. Triccia Dacer, one of the Board Directors of Makati Tourism Board who saw and read this food blog, she invited me via email for the first HoReCa (Hotel, Restaurant, Cafe) Festival.
The HoReCa Festival is a trade exposition activity that will see over 80 participants from the hotel, restaurant, catering and café sub-sectors to showcase their restaurants and catering services in the two-day exhibit.  To name a few, this will include hotels like Intercontinental Manila, the New World Hotel, Dusit Thani, and the Holiday Inn. as exibitors.
I was aware on this kind of festival abroad especially Europe as some of the foreign consultants I know book their staycation by attending to this kind of event – lot of promos, freebies and some of it even lower the price just attending this event.
Like them, I was very eager to know it which made me more excited.
With the theme "Finest Footprint at its FIRST," which is also supported by the Department of Tourism, the formal launch was held last August 11 at the Glasshouse of New World Makati Hotel.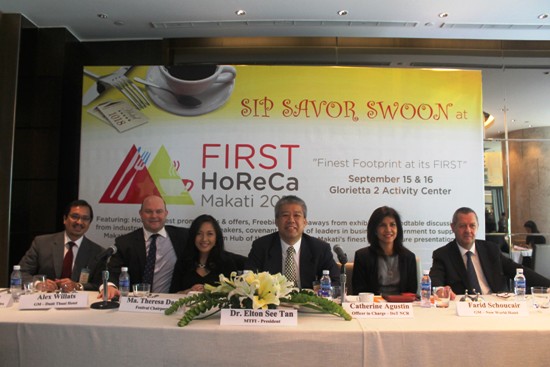 According to Ms. Triccia Dacer:
"We wish to introduce to the general public the sector of HoReCa considered to be one of the fastest-growing touristic sectors in Europe and the Middle East. HoReCa is concentrated on hotels, restos, cafes and catering companies because they are believed to be a pump-primer to propel economic growth due to high-rate employment especially in exhibitions that attribute high success rates in marketing and revenue generation of participating exhibitors. Hence, we trust that a similar principle is adoptable with the current market conditions in Makati," she said.
Participants, will have the opportunity:
to try the finest coffees
listen to hotel-ambiance music
talk with industry leaders and practitioners from participating HoReCa exhibitors.
Orienting to Makati's recreational venues for family bonding like parks, old symbolic churches and other cultural heritage spots that veer towards the traditional Filipino way of family bonding and away from the technologically-driven culture of today are also part of promoting the city.
[youtube=://www.youtube.com/watch?v=T-N0SsXj1dI&w=550&h=309]
Expect also the best promo deals and tourism-related presentations when the festival kicks off.
Makati City Mayor Jejomar Erwin "Jun Jun" S. Binay Jr. and Vice President Jejomar Binay will be present ribbon cutting to open the festival.
For more information, you can send an email to dacerprlegacy007@gmail.com.