Yes, its simple with Angel's Pizza. Still great ingredients like varieties of cheeses make a  great food.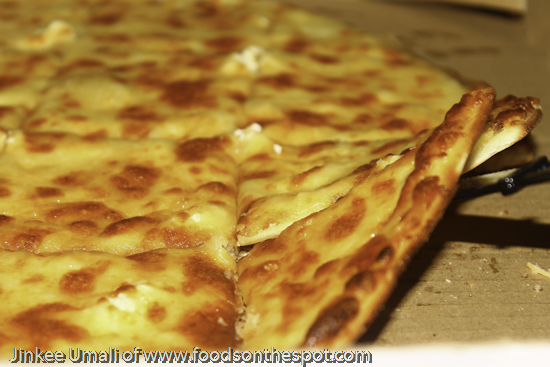 Since we were conducting a training then in the metro, it would be more enticing during our breaks to order pizza.   What I did was to let them try Angel's Pizza new flavor, Creamy Garlic & 5 Cheese Pizza.
Verdict?
If one will look it closer, such a simple indulgence.
Still, this freshly-baked dough pizza are drizzled with garlic and loaded with not only one but 5 classic cheeses like cheddar, pizza cheese, mozzarella, parmesan and feta. Overall, the combination makes it soo velvety in taste where the whole resemblance complimented the consistency when all cheese were combined.
Some would say, it was a bit overwhelming to put all those 5 different kinds of cheese. Honestly, it's not. Plain, still its chewy yet crunchy as those topped delicious cheeses blended well with every crispy bite on each slices. Simple yet mouthwatering.
Sizes available:
Medium Pizza – a 9′ inch thick good for 2-3 persons at Php299
Family Pizza – 12'inch thick good for 4-5 persons at Php429
Big Family – a 14'inch thick good for 6-7 persons at Php529
Thin Crust Pizza 14'inch thin good for 6-7 persons
Part of the order were also pasta like this Spaghetti.  Filipino style  I may say because of its sweetness yet its rich and creamy.  Best part, this home-styled pasta give those distinct taste yet still flavorful.  This comes with 2 pieces of garlic sticks for P 80.00.
For sweet ending,  we got to taste the Apple Turnover which is tender and flaky that is puffed with apple filling glazed with butter.  Price is P 70.00.
Have bought also the medium sized one since my son will be coming home to visit us.  Did he enjoyed it? Like us at the office he surely loved the distinct taste which add up to his other traditional flavors like Pepperoni and Hawaiian.
For orders, call  922-2222.
Order also online and avail their  promos and discounts via www.angelspizza.com.ph.
Visit https://www.facebook.com/angelspizzapastacombo.
Follow @angelspizza on Twitter and @angelspizzaph on Instagram for more details.