Friends are the chocolate chips in the cookie of  life.
Photo Courtesy of Mrs. Fields Facebook Account
Photography and food would always be a passionate hobby for me.  Maybe it is an escape that whenever I like to focus on what I am doing if its work or family related tasks, I tend to eat or simply bite just to comfort the feeling.  What more, I love to take pictures on the food I ate as in everything – at home whenever I cook, on the street when I bumped a food I can munch and restos during meetups with friends/families.  This is the reason I put up this blog – to nurture those experiences of good food around.
The Photography Academy – Manila in partnership with Mrs. Fields Cookie Cafe introduces to a mouth-watering Food Photography Class on November 9, 2013 at 2pm to 6pm only.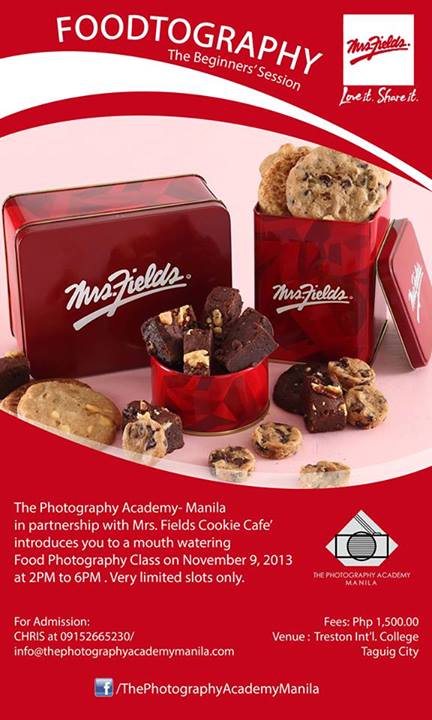 I would definitely be attending the Foodtogrpahy class where I can expand more my skills in taking photos on the food I ate –  that is from right angle, lighting and shots to focus that would give emphasis just for the love of food.
What more, I am an avid fan of Mrs. Field's cookies especially their Delish Milk Chocolate Chip Cookies which was I snatch at their Facebook page.
Join us! This would be an avenue of gastronomic dessert experience and learning at the same time.
For more information on the class, visit their FB page.