Food for the body is not enough. There must be food for the soul. – Dorothy Day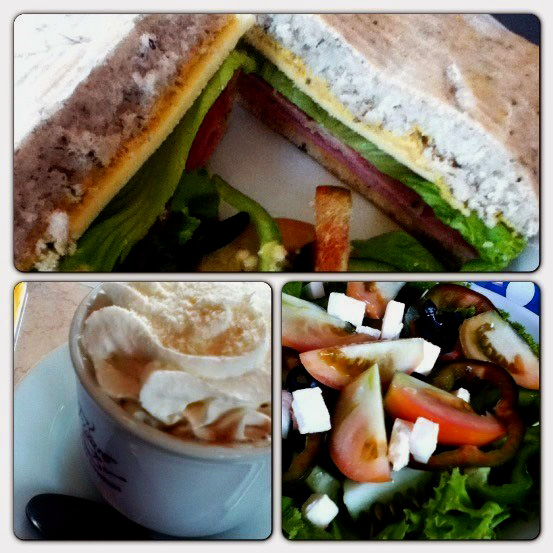 Before we have a mall in Calamba City, family's favorite place to go then was going to Sta. Rosa Laguna. That is from Nuvali, Paseo de Sta. Rosa or SM which for us were the nearest rather than going to Alabang.
Lately, it was come to our knowledge that another mall was built again with the opening of Garden Plaza at Garden Villas located before the junction of Sta. Rosa proper.  Garden Plaza Mall and Garden Villas were used to be a lush field surrounding and transformed to a green residential / commercial area.
From Savemore Supermarket that opened last year, recent opening of Figaro last July 17 made it more exciting not only  to the homeowners but also visitors around the nearby area where one can hold meeting, hang out or simply chillax.
Good spot area I may say.  Why?  Infront within the location of Figaro located the dry fountain which can later be serve as an events venue for concerts, sporting events, and other activities.
Exterior and interior design wise,  Figaro never failed me to be amazed with their country style yet home design.  Have clients nearby Sta. Rosa and definitely, this would be a great venue for us if ever we will have business meet-ups.
Coffee would always be the best as it match and even surpass the taste of international coffee shops around considering we are supporting our local coffee grower here in the Philippines.  I tried this white coffee while some of us got their cold drinks like the Chocolate and Caramel Light.
For brunch – salads, pasta and sandwiches would always be my bet.  For me, there were food for the souls yet a healthy choice to indulge.
Salads – Caesar and Chef Salad
Sandwiches – Grilled Chicken Sandwich
Pasta – Al Tonno and Arrabbiata

Again, our heartfelt congratulations for the expansion of Figaro in the south.  I am still hoping that they will have a branch in Calamba to also enjoy those coffee aroma and food selections they are offering.
Location: Ground Floor, Garden Plaza, Brgy. Ibaba, Garden Villas Phase 3, Sta. Rosa, Laguna
Landmark: Figaro is located inside the Garden Plaza Mall which is near the junction of Sta. Rosa proper.  Turn left once you see Lim de Mesa Funeral Homes and asked directions from the tricycle going to the mall.
For more inforamation, visit their:  
Website: http://www.figarocoffee.com/
Facebook Page:  https://www.facebook.com/figarocoffeecompany