"A recipe has no soul. You as the cook must bring soul to the recipe." – Thomas Keller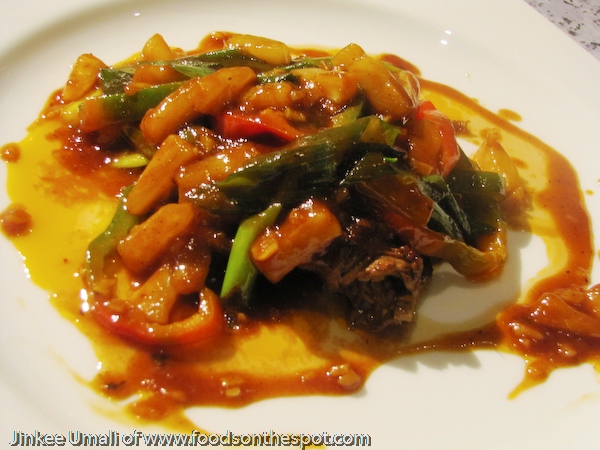 Year 2000 when I subscribed via email to receive every week a recipe menu from Del Monte Kitchenomics which I painstakingly printed, compiled and put them in a clear book for later reference. Since I was working fulltime in an office then, reading those set of menu gave me the idea the ample time to prepare a family meal in a week.
For more than a decade, until now, I am still using my Del Monte Kithenomics clear book which I already passed to my daughter who also love cooking.
It was a bliss when I found out that GMA Network will be reviving the Del Monte Kitchenomics cooking show again his February 13. The time slot will be every Wednesday and Saturday before Eat Bulaga and every Sunday after AHA!.
To spice up the show, this will be hosted by kitchen duo – celebrity chef Dino Ferrari and comedy actress Eugene Domingo.
I was fortunate to witness a sample cooking demo cooking Hawaiian Steak using Del Monte Products.
Here is the recipe using Del Monte Ketchup and Pineapple Tidbits:
This recipe is done in less than 15 minutes which is advisable to the family when they are rushing up to go to school cooking dish in a hectic schedule.
Tips I got from Chef Dino Ferrari:
Add more butter to make the dish palatable to eat.
When plating, start in the middle with the main dish and topped with those ingredients. Circle it with those sauce around.
What is in store for the revive show?
Del Monte Kitchenomics will continuously cooking up exciting and innovative recipe ideas yet easy to prepare and budget friendly which are consumers-tested to make sure they are delicious.
Truly their recipe has a soul that gives life to every dishes once you try to cook them.
Now I am excited and anticipating the show!  This would be an add-up recipe again now with the family enjoying their dishes all throughout these years.


Again, catch the new season on GMA 7:
Del Monte Kitchenomics this Feb. 13
Every Wednesday and Saturday before Eat Bulaga
Every Sunday after AHA
For more information, visit their:
Website: www.delmonte.ph/kitchenomics
Facebook Page: www.facebook.com/Delmontekitchenomics