"Eating is a need, enjoying is an art."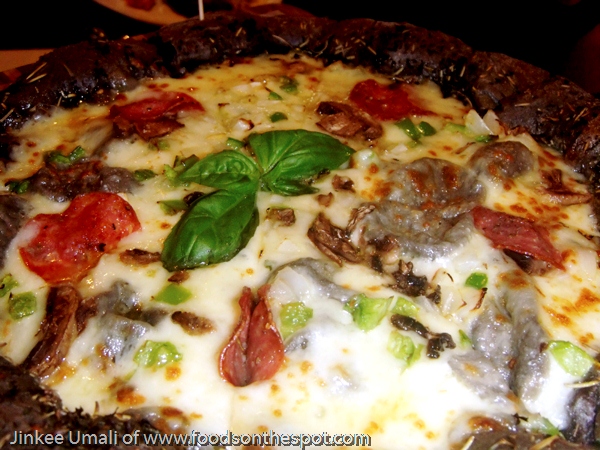 Bistro Group launched Taste of Love at Village Tavern last January 23, 2013 to celebrate series of milestones like opening their 50 restaurants spread across 12 concepts, the appointment of Corporate Chef Josh Boutwood and the launch of its Premiere Card.
Bistro Group is a collection of international hospitality casual dining brands and home-grown restaurant concepts, namely TGI Friday's, Italianni's, Fish & Co., Flapjacks, Pig Out!, Krazy Garlik, The Stock Market, Bulgogi Brothers, Ma Maison, Village Tavern, Watami and Modern Shanghai.
The campaign is also about innovation of the dish prepared that would partake restaurant concept and international chain brought to local shores which I got the opportunity to taste it.
Started myself with this refreshing juice. I think this is the combination of an Apple – Carrot juice.
For appetizers, we have Homemade Jalapeño Poppers. When we say jalapeño, expect a whooping firing in each taste bud enclosed in breaded cream cheese and bacon-stuffed. Best partnered with those marinara sauce for dipping.
Chorizo and Goat Cheese Rolls were soo crispy spiced up with those chorizo and goat cheese.
As I always told in this post, I always love Chicken. Those sesame teriyaki chicken wings is a "must-try" – crispy yet so succulent
I also enjoyed the Shrimp Mango Quesadilla because of its tenderness embellsihed in a sweet mango and pico de gallo with Monterey Jack cheese enclosed in soft tortillas. Cannot resist that I have to get three of it for taste.
First time to see a Black Pizza. Why is it black? It was infused by squid ink pizza dough gloriously scattered with mozzarella, parmesan, gyuere, mushrooms, onions and bell peppers.
For pasta, we have Penne with Italian Sausage. The creamy green pesto sauce made this penne unique sauteed in crispy panacetta, Italian sausage and caramelized onions.
Those cute BBQ Pulled Pork Sliders  is also a "must-try", a full packed shredded pork in a little bun topped with BBQ sauce.
After those fulfilling entrees, best partner with dessert like the Double Decker Cheesecake – a layer of chocolates and cheesecake topped with raspberry and chocolate sauce.
St. Barths Chocolate Torte is so rich in chocolate yet so moist especially if its served with ice cream and chocolate sauce.
Best to end our meal with this knockout brewed coffee which I was awakened for the rest of the afternoon.
Aside from the new food offering, The Bistro Group is also launching the Premiere Card, which offers multiple discount offers up to 40% off the total bill; complimentary appetizers, coffee, and tea as well as birthday treats for the cardholder.
For the month of hearts, The Bistro Group is offering an exclusive deal for Citibank cardholders. From February 4-7, cardholders will receive 50% off food and beverage orders worth at least P2,500, with a discount up to P5,000.
According to Lisa Ronquillo, AVP Marketing of Bistro Group, Taste of Love is not just about food – its a heart and passion that goes everything we do. From concepts, locations, services but mostly the food.
Overall, I got a remarkable dining experience with those new unique dishes that I tasted. Definitely, will repeat it with hubby.
For more information, visit their:
Website: http://www.bistro.com.ph/
Facebook Page: www.facebook.com/TheBistroGroup