Part of exploring SM Southmall New Direction event last November 17 which I was shared with my Calamba-Online post, was to visit what they called "Food Street at SM Southmall".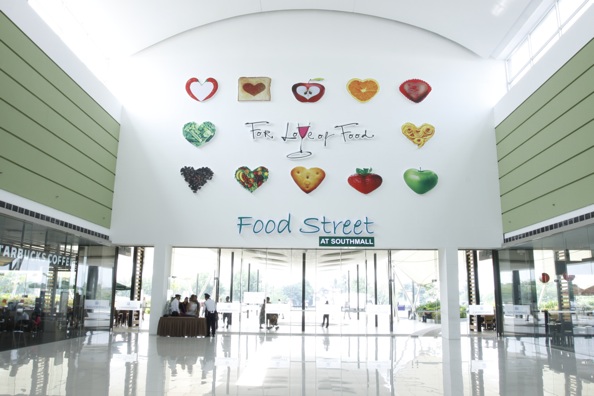 Food Street at SM Southmall is a 250-meter row of restaurants that offers a varieties of cuisines to cater those discriminating tastes and individual plates. Great to know that most of these restaurants have already branches here in the south which is almost near to us comparing the travel time in the metro.
My daughter and I hopped together with other foodies around from one restaurant to another to truly escapade the whole al-fresco dining area.
Our first stop was Cafe Mary Grace. I have seen their long time kiosk at Glorietta and one of my treats at home was to bring their fluffy ensaymada.   I will definitely have a a separate food post for this one as I am eager to bring my family tasting those different kinds of ensaymada.
I thought we were just invaded by Korean from drama, dresses and music. LOL! Now comes this Hollys Coffee, a Korean coffee and tea chain that offers extra-ordinary flavor called Hollyccino.  Saw this, when I was passing Taft Avenue in Metro Manila. For the price tag, it is almost the same with other coffee chain.  Jam tried the Blueberry Holyccino.

Blueberry Holyccino, price is P 150.00.
This keep us excited also when I saw Tous Les Jours, a French-Asian Bakery that serve a unique selection of bakery goods and beverages. Anyway, will definitely have a separate link for this one as I love to feature those delectable and sophisticated cakes.
Rack's which specialized in back ribs gave us a sampling taste of their Kansas City Style Ribs – ribs marinated in barbeque sauce giving those smokey and spicy flavor.  Best thing, it is served with salad and side dishes like corn.  Yes, those flamed grilled part really falls off out on the bone.
Kansas City Style Ribs, price is P 785, good for two-three persons
 We were almost full then but still I told Jam to just enjoy those taste rather than eating eat in full.  Our next was pizza and pasta by Marciano's.   Serving three kinds of pizza and a pasta were a lot as I like to have a separate post for this one.   Overall, the crunchiness was just right on our taste buds.
Maharaja, an Indian restaturant that let us taste those Papadum – a puff pastry and sun dried crisp of Indian wafers. Love the combination of green, pink and lavender interiors around – pleasing to the eyes.
Our last stop was Agave – a restaurant who offered a bottomless margarita. One shot of frozen margarita is enough as my tummy was sooo full.
Other dining favorites we saw are Black Canyon Coffee, Sambokojin, Tokyo Café, Mesa Filipino Moderne, Sumosam, Almon Marina, Giligan's Island, Hainanese Delights, Burgoo, Blackbeard's Seafood Island and Starbucks.
Jam enjoyed the illuminated LED fountain that serves a visual delight along its pathway.   Yes, it is truly the best of the south!  We will definitely come back with the rest of the family to share those food enjoyment with them.
For more information:  visit their facebook page – http://www.facebook.com/smsouthmall