One of  the food that I look for cooking is to serve Seafood Paella for the family.   I just love eating them in a resto or any gathering that serve the said dish.
Paella is a Spanish cuisine originated in Valenciana, Spain.  Maybe that is the reason people are calling it Arroz Valenciana sometimes.  So now you know why Arroz Caldo is called that way because of the rice content for each dish.
I got the opportunity how Paella was prepared and presented in the recent Knorr event presented by Chef Martin Jickain – an Executive Chef at Sofra Bar and Restaurant at the Fort and Food Editor for Queue Magazine.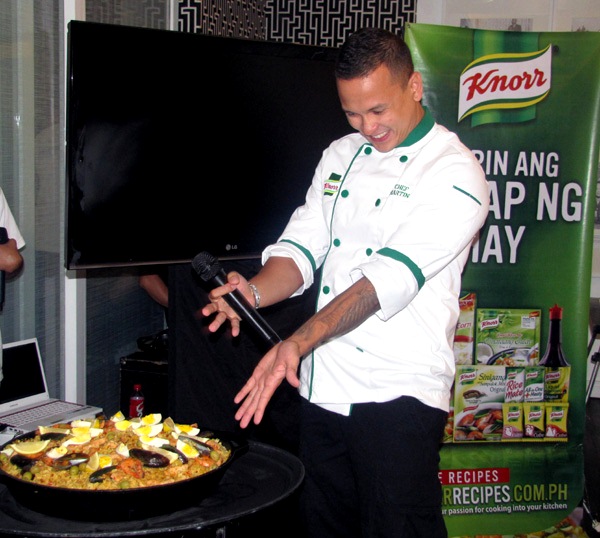 Chef Martin use saffron here.  For substitute in color and flavor,  usually tomato sauce can be use.  Friends I know still use the traditional atsuete.
2 tbsps olive oil
1 tbsp paprika
1 tsp cayenne
salt and peppers to taste
1 k chicken breast fillets, cut into 2 inch pieces
2 tbsps olive oil
3 cloves garlic, crushed
2 cups organic
1 pinch saffron threads
1 bay leaf
Half Knorr Chicken Cube and half Knorr Shrimp Cube
1 quart water
2 lemons, zested
2 tbsps olive oil
1 red onion, chopped
1 red bell pepper, coarsely chopped
1 pound chorizo sausage, cut julienne
1 pound shrimp, peeled and deveined
1 pound mussels or scallops
Boiled eggs
Olives, to garnish
Procedure:
In a medium bowl, mix together 2 tablespoons olive oil, paprika, cayenne, and salt and pepper. Stir in chicken pieces to coat. Cover, and refrigerate.
Heat 2 tablespoons olive in a large skillet or paella pan over medium heat. Stir in garlic, red pepper and rice.
Cook, stirring, to coat rice with oil, about 3 minutes, Stir in saffron threads, bay leaf, Knorr Chicken and Shrimp Cube stock and lemon zest.
Bring to a bil, cover, and reduce heat to medium low. Simmer 20 minutes.
Meanwhile, heat 2 table spoons olive oil in a separate skillet over medium heat. Stir in marinated chicken and onion; cook 5 minutes. Stir in bell pepper and sausage; cook 5 minutes. Stir in shrimps and mussels or scallops; cook, turning the seafoods, until shrimps are pink and mussels/scallops slightly open.
Spread rice mixture onto a paellarita or a baking dish.
Top the seafoods and chicken.
Cook for 20 minutes or until the rice is cooked at medium fire.
Top with boiled eggs, lemons and olives.