Eating breakfast increases one's metabolism giving right amount of energy for the day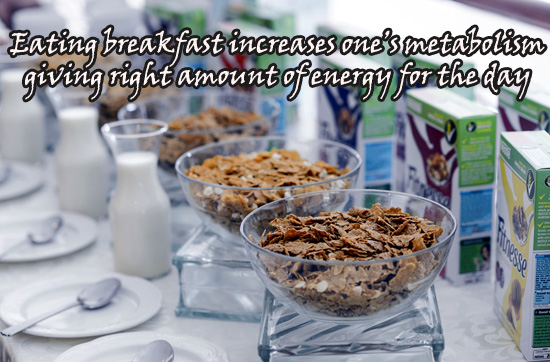 A bowl of cereal would always be our family's favorite food whether it's a breakfast, snack or something to munch.  Instead of eating chips, we substituted it with cereals together with raisins, sliced mangoes or apples and nuts.
Cereals in a breakfast is always included especially if we are in a hurry. Eating breakfast increases one's metabolism which gives the right amount of energy for the day and at the same time making weight management easier.
Cereals which are made with whole grain – proven to be high in fiber, vitamins, minerals and low in fat like Nestle Fitnesse boost the energy need for the day.
When I was invited for a healthy cooking demo by Chef Tess Sutilo from Nestle Philippines using a recipe contain Nestle Fitness cereals, my knowledge to include cereals in different meals gives me ideas to innovate it more yet healthy at the same time.
Chef Tess prepared a total of 3 dishes infused with NESTLÉ FITNESSE: Summer Crunchy Salad, Burger Patties, and Baked Pancake and Fruit Trifle. After the cooking demo, I was able to try all of them.
Sharing to you the recipes I learned during my visit.
Definitely like me, you will enjoy those twists with cereals keeping a 100% healthy yet hassle-free to prepare and at the same time delicious.   I highly encourage you to try it at home.
For more information, you can visit www.facebook.com/NESTLEFITNESSE.ph.
A. Summer Crunchy Salad
Ingredients:
2 tbsp. cooking oil
100g shrimp, peeled and deveined
1 cup cubed green, yellow and red bell peppers
pinch of MAGGI MAGIC SARAP
pinch of salt
1 cup broccoli florets, blanched and set aside
5 pieces cherry tomatoes, halves
1 cup cubed ripe mango
1 cup NESTLÉ FITNESSE Honey Almond
Vinaigrette: Combine –
Juice of 1 lemon
½ cup olive oil
½ cup dalandan juice
Salt, pepper and sugar to taste
pinch of MAGGI MAGIC SARAP
Procedure:
Heat cooking oil. Stir-fry shrimp and peppers. Season with MAGGI MAGIC SARAP and salt. Cook until shrimp turns pink in color and peppers are fork tender. Remove from heat.
In a bowl toss cooked shrimp and pepper, blanched broccoli, tomatoes and mangoes together. Keep in the refrigerator until ready to serve
Top with NESTLÉ Fitness and drizzle with prepared vinaigrette. Serve cold.
B. Nestle Fitnesse Burger Patty
Ingredients:
1 piece onion, minced
½ kg ground pork
1 tbsp minced garlic
2 cups finely ground NESTLÉ Fitnesse
2 eggs
1 sachet MAGGI MAGIC SARAP 8g
2 tbsp MAGGI Oyster Sauce
Salt and pepper to taste
Cooking oil for pan-frying
Gravy:
2 tbsp butter
2 tbsp flour
½ cup NESTLÉ Low Fat Milk
1 tsp MAGGI MAGIC SARAP
Salt, pepper and sugar to taste
Procedure:
In a bowl, combine onion, ground pork, garlic, cornflakes and eggs. Mix until fully incorporated.
Season with MAGGI MAGIC SARAP, MAGGI Oyster Sauce and salt and pepper to taste. Mix thoroughly until all ingredients are well distributed into the mixture.
Fry a sample patty to determine the taste. Adjust seasoning according to preferred taste.
Form into patties and stack with lined plastic wrap or wax paper in between. Store in the refrigerator until needed.
Serve as viand with rice or as filling for hamburger sandwich.
To prepare gravy: Make a roux out of the butter and flour. When mixture is combined thin mixture with milk and mix until desired consistency is achieved. Adding more milk if necessary.
Season gravy with MAGGI MAGIC SARAP, salt, pepper and sugar to taste.
Serve on the side of the prepared burger patties.
C. Baked Pancake and Fruit Trifle
Ingredients:
1 250g fluffy hotcake mix
¼ cup peanut butter
¼ cup cherry or strawberry preserve
½ cup coarsely crushed NESTLÉ Fitnesse and Fruits
2 tbsp brown sugar
¼ cup chopped walnuts or peanuts
1 tsp cinnamon powder
2 tbsp melted butter
Procedure:
Prepare Hotcake Mix according to package instruction. When mixture is fully combined and smooth in consistency, transfer on a rectangular glass baking dish.
Bake on a 375° F pre-heated oven for 15 minutes. Remove from oven and let cool.
When cool enough to handle, Spread peanut butter on top. Follow with the cherry preserve.
In a separate bowl, combine NESTLÉ Fitnesse, sugar, walnuts, cinnamon powder and butter. Mix well to incorporate.
Slice before serving and best serve with coffee or tea.