McDonald's Chicken Fillet ala King is the new rice chicken meal that is crispy and juicy yet very affordable.
When one dine in a fast food set-up some would think, the price value that comes with it. But then, a new rice meal from McDonald's answers this call for a delicious, complete, and filling meal at an affordable price.
Introducing McDonald's new Chicken Fillet ala King meal for only P59!
Made with crispy and juicy chicken fillet, topped with delectable, creamy and buttery sauce with carrot bits and chives; complete with rice and a drink.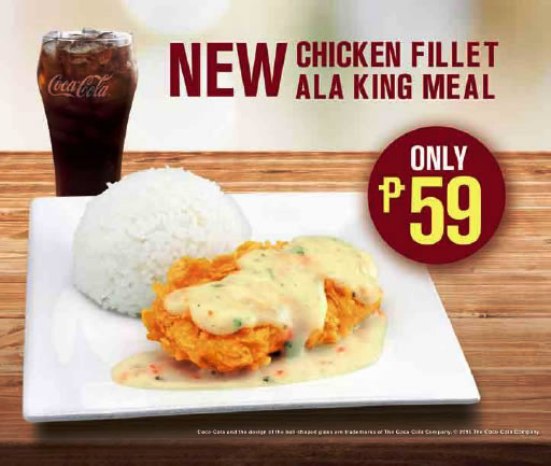 This Chicken Fillet ala King is a sure-hit for Filipino customers' tastebuds and budget. It will be available at McDonald's restaurants nationwide starting September 7.
Aside from the Chicken Fillet ala King, there are more chicken favorites to choose from at McDonald's.
Customers can also enjoy:
McDonald's best tasting Chicken McDo meal (Php79)
Crispy Chicken Fillet meal with Fries (Php79)
Chicken McDo meal with Fries (Php99)
Chicken McDo with McSpaghetti (Php99).
Who says eating like a king has to cost a fortune?
Experience delicious, filling and above all, affordable meals at McDonald's via Dine-In, Drive-Thru, or McDelivery through 86-2-36, mcdelivery.com.ph or the McDo PH App.
Share your McDo moments with McDonald's Philippines through the official Facebook page: http://facebook.com/mcdo.ph or by tagging @McDo_PH on Twitter and Instagram.