Healthy Options, the Philippines' all-natural products store chain, with Bow & Wow, Wine Story, and Planet Grapes, present the Christmas Gift Show.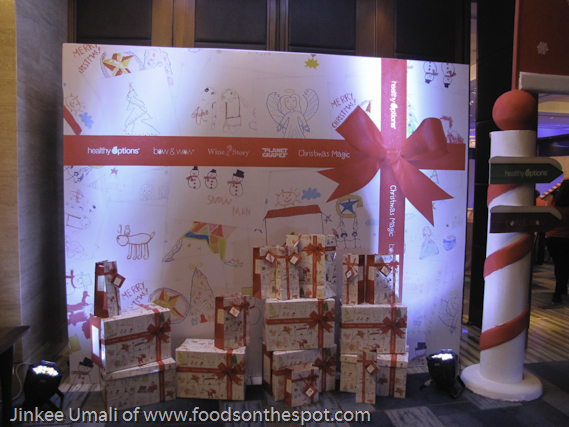 We got to see the  exclusive preview of premium holiday gifts happened last October  20 at the Isabela Ballroom of Makati Shangri-La Hotel in Makati City which showcased practical presents to give this holiday season.
Some available gift packs were:
Healthy Options' sparkling juices and organic wines are also among the premium holiday gift options. The variants of Healthy Options sparkling juices are gold apple, blood orange, wildberry, strawberry, white grapes, red grape and peach. On the other hand, the organic wines are Nuevo Mundo Reserva, Nuevo Mundo Estate and Organic Vintners Rosso.
The Holiday Box, priced at P2,995, includes light and sumptuous snacks that can best be enjoyed during the chilly holiday weather.
Rudolph's Childhood Favorite at P2,995, is perfect for the kid-at-heart, bringing back your Christmas memories with these fun and classic favorites. This box includes yummy gummy bears, fortune cookies, chocolate bars, and other treats.
Santa's Snack Selection Christmas Box at P3 includes fiber-packed cereals, natural juices, almond butter, chocolate bars, and other health offerings.
The Sugar Plum Fairy Christmas Box includes such delightful functional gifts like soothing massage oil, hair care sets, natural soaps, night cream and other skin care sets.
The Angel's Heavenly Feast Christmas Box, priced at P3,395, is perfect for Noche Buena feast or holiday parties, with quality selections like gluten-free & wheat-free pretzels, organic bisque, goji berries, organic pasta, extra virgin olive oil, organic quinoa, plus healthy ingredients for a tasty meal like gluten-free bouillion cubes, and more.
Healthy Options also offers the a la carte holiday gift box, Three Kings' Treasure Box, that can be customized to suit individual preferences. Priced at P6,995, the Gift Box is suited for valued clients, CEOs/VIP business associates, and family members.
Need more gifts for the special ones on your list? Create your own magic by choosing a unique assortment of healthy products to fit in any of our Christmas magic gift bags ranging from P500 and P1,000 denominations.
Also present during the exhibits were:
Bow & Wow offers clever all-natural gift ideas suited for pet parents who want to give their furbabies royal pampering. The Christmas Gift Show features eye-riveting displays that bring attention to how you have made your pets happy. Bow & Wow highlights Good Nutrition, Pampering, Training, Health & Wellness, Exercise & Play, Enrichment, Touch, Comfort & Safety, Communication, Quality Time, Socialization, and Celebration. Also in store for early Christmas shoppers are trade show products, and Happy Tails shirt. Satin red ribbons with pawprints, the Bow & Wow logo and the words "Happy from head to tail" complete the packaging for each quality holiday gift pack.
Wine Story make your holidays sparkle gold and silver with exclusive Christmas sets of rare wines. The theme behind Wine Story's 2014 holiday offerings is a "Gold and Silver Christmas," playing on the rich value placed on wine, and its ability to elevate any celebration.  Wine Story has handpicked four wine sets that will highlight the best this season has to offer. Reminisce about the best of the year, plan adventures for the year to come, and spend quality time with loved ones with these wine sets, which include "Sparkling and White wines", "Alsatian wines", "The Best of Bordeaux" and "New World Napa Valley wines".  Wine Story aims to raise and support generations of fine wine lovers in the Philippines. It enhances high wine culture by enriching wine appreciation through education and experience.
Celebrate the holidays with out-of-this-world wine sets from Planet Grapes.  Planet Grapes invites wine enthusiasts to experience "Wine Without the Drama" through their interstellar holiday sets consisting of eight planetary wine packages ranging from PHP3,000 to PHP4,400. Wine Angels in Star Trek-inspired outfits can guide customers as they explore interplanetary wine options.   Bring a little of the universe to your celebrations with Planet Grapes' planetary wine sets! All of the sets make fun gifts, thoughtful party additions and exciting holiday decoration to excite guests.
At Healthy Options, Bow & Wow, Wine Story and Planet Grapes, there are certainly gifts worth selecting and purchasing early. The Christmas Gift Show presents premium quality gift options that will indulge every whim and spread the magic of the joyous holiday season.