One must eat to live, not live to eat.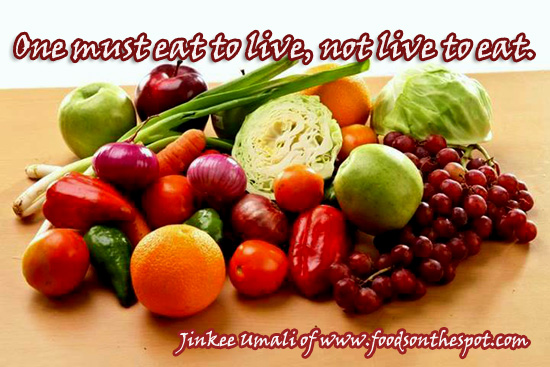 My love for fruits and vegetables started way, way back to my parent's house.  Our family oriented us that fruits and vegetables are the healthiest, colorful yet the best tasting food ever.   Packed with lot of nutrients like vitamins and minerals, it is no doubt that their substance would stay us healthy.
Even you saw me posting those food escapade via my social media account, still most of it were fruits and vegetables that I have to maintain and eat them regularly.
Why?
Boost my energy level if ever I munch those apples or grapes while doing work
It also control my weight even I eat a lot
Last which I like best – my outlook to life feels great always
Eating is definitely my favorite activity.  Still, one has to do something to maintain one's health.
Sharing to you some of my veggie/fruits pictures:
Best part, will we gain weight if we eat too much fruits?  According to my friend who is a nutritionist, fruits are low in calories which is a great choice for weight management.
If one is also eating healthy food, you are doing your body a favor – protecting it against numerous disease and prolonging your life not just eating to satisfy yourself.
That is maybe the reason, I will be attending a road trip fruit gastronomy for one day headed by an International Chef.  I would like to learn more about nutritional value of fruits and incorporate it to our daily dishes.
Join us!
Famous Hawaiian fruit Guru and Chef, Ken Love, will conduct an agri culinary cooking using local, in-season fruits as the main ingredients and sit-down dinner from 9 AM to 3 PM on Monday, October 28 at MoCa Farm, Padre Garcia, Batangas.
Ken Love has been passionate about local fruits and vegetables since the 1980s when he saw exotic mangoes, avocados and papayas rotting on the roadsides of Hawai'i Island. Since that time he has championed the replacement of imported fruits and vegetables with high-quality locally grown foods in restaurants, by grocers and supplied by wholesalers. Mr. Love shares his enthusiasm throughout Hawai'i and across the Pacific Ocean and now for the first time in the Philippines.
Benefits when you attend the event:  
Features Filipino fruit dishes created from recipes of Ken Love and many well-respected, local Chefs.
All the food that will be using is fresh and locally grown.
Farmers will also be present to discuss how high-quality fruit is grown, why it's healthier and tastes better.
Discussion about Farmers / Chefs relationship and creation of Agri-culinary tourism.
The said event is made possible by Rare Fruit Society of the Philippines and features many well-respected chefs and farmers from across Luzon.
Price of the ticket: P 750.00/person
For more information:
Call: Mercy Beria at 09103652941 or Gigi Morris at 0919-479-0566
Email Address: gigi@gigimorris.com
I would like to end this post with this Facebook Cover with a quote about fruits – colorful and yet delicious to taste.

Picture courtesy:  http://fbcoverstreet.com/facebook-cover/replace-that-bowl-of-ice-cream