"You don't have to cook fancy or complicated masterpieces – just good food from fresh ingredients." ~ Julia Child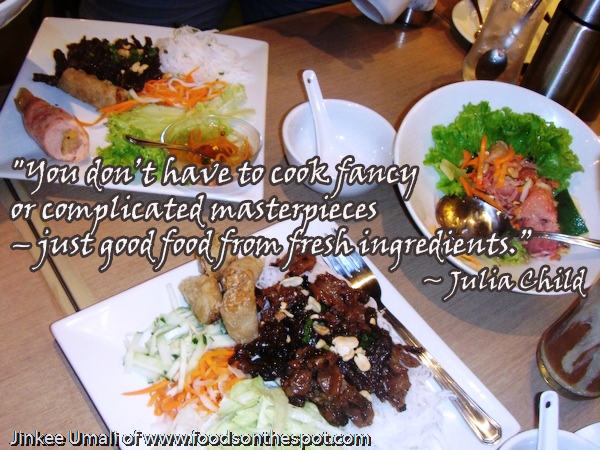 I was in search of a healthy eating and a soup last week when I was in Makati area. Maybe because the weather was terrible then, too cold to have a hot soup and at the same time indulge to a healthy intake.
Good thing I have accepted an invitation to try this new Authentic Vietnamese restaurant, La Petite Camille located at Greenbelt 5 which was opened last December 2012.
I love Vietnamese food especially their salads and soups – sooo comforting for me. Playing around with those fresh healthy ingredients like lemongrass, mint, long coriander and Thai basil leaves together with fish, chicken, pork, beef and seafoods made it the healthiest food in the world.
I was not disappointed with La Petite Camille menu offering as all of them got those vegetarian Vietnamese tradition where flavour combinations and variations from spices and sauces used for each dish are unique creations of Mama Fong, the restaurant's founder.
These are some of the food that I indulge during our eat out with La Petite Camille.
We started are meal serving those Vietnamese coffee mixed in a condensed milk. One has the option to add up hot water on the coffee or simply pour it in a glass of ice.
For appetizers, plates of green and healthy salads were served to us.
Fresh summer rolls are rice wraps filled with prawn, lettuce, cucumber, rice vermicelli and Thai basil served with peanut sauce which is popularly a Vietnamese dish.
The combination of these set of appetizer like BBQ pork, imperial rolls, minced prawns on sugarcane served with lettuce, rice vermicelli, picked carrots and fish sauce were already enough for me. Actually, I am already done with my lunch cravings!
Suggestion was to dunked it with fish sauce to get those gastronomic juices flow in each bite.

For salads, we have green papaya and pomelo which I enjoyed most – so authentic, light, fresh and tasty especially if its mixed with seafoods like shrimps.
This thick soup was full packed of flavors – salthy broth, fresh rice noodles and beef sprinkled with herbs.
Well, I still missed those Pho soup where I choose from a variety of fresh condiments and sauces to spice up my soup and bring out the flavor alive.
Their fried rice like the Shrimp and Chicken are viand itself. Kahit walang ulam, it can survive on its own because full pack flavored around.
For the main entree, pork and chicken sauteed in garlic were served on a bed of lettuce which were just right to the taste especially if these will be dipped in fish sauce.
Another one, worth a try is the Eggplant dish saute in sausage, chicken and shrimp which I found this menu so unique and enjoyable.
Pan Fried Rice Noodles with assorted seafood and vegetables was soo healthy especially those broccoli and shrimps – again luscious in serving.
Overall, we really enjoyed our sumptuous lunch at La Petite Camille – fresh and flavorful. Even there were lot of people during that time, the service was fast and staffs are accommodating. The whole interior of the restaurant was simple yet clean and modern.
Definitely, this would be an add up to my list as one of my favorite restaurants in this side of Greenbelt.
Location:  Second Floor, Greenbelt 5, Legaspi Stm Legazpi Village, Makati
For more information, visit their:
Facebook Page: La Petite Camille