I am not a glutton.  I am an explorer of food.  – Emma Bombeck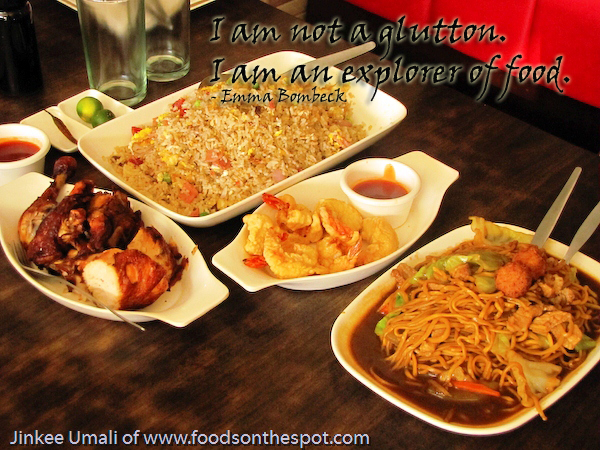 Part of our work was to have a personal meeting out of town, meet minds and from there, we can end up our talk productively. That was happened to us in Batangas City in an early, early morning.   We invited kids to be with us and have some road trips.   They declined and they told us they would rather sleep.
Since this was very early, what we did was to grabbed coffee home and up we go.   I was damn starving at that time and like to have a full breakfast after that mind-boggling meeting.  When we asked folks around the best place to eat out, one restaurant that they recommended to us was Wa Nam sa Bukid. 
It was our first time in Batangas City but then the location of the restaurant is easy to find – near SM Batangas and Holy Trinity Church.  I was expecting it was really beside the "bukid" but merely bustling off the busy area.
Anyway, according to history, most of the Chinese food served here were transfer to generations that made each meal still unique in taste.  Remember, Panciteria where Chinese is known for way, way back then.
The interiors  is simple yet elegant  – a touch of white which made it very clean and pleasing to the eyes.  Best part, it is WIFI enabled that made me update my status via Instagram and Facebook.
Service staffs are also attentive and friendly.
Since this was new to me, my always question when ordering food was their bestseller.
Following  were the suggested food:
First was their Wa Nam Fried Rice which is actually a chow fan for me.  This one was full packed of vegetables, seafood and meats together with eggs yet so flavorful served in large quantity.  Even without those viands around, this would be  a complete meal alone.
Wa Nam Fried Rice – P 150.00
Another one was the Miki Guisado.  Most people were coming here to buy this noodle menu for take-out which made them also popular.  Glad that I was lucky enough to know why folks here were craving for it.  Again, the ingredients was so generous topped with those meat balls together with crunchy veggies.  I love more my noodle flowing with those oozing sauce around which made it rich in taste and not that dry.  Actually, this is how I cook my noodle.
Miki Guisado, large servings for P 150.00
Fried chicken will never be neglected in my food preferences.  Countless times that I was telling here in my blog how I love chicken especially if its fried.  I was never frustrated when I tasted Wa Nam own version of frying their chicken.  No flours around just simpl right combination of spices.
Fried Chicken – P 320.00 for whole chicken
Camaron Rebosado is a prawn in a batter.  Sometimes there were more batter than the prawns but not with this one.  The prawns used was huge and batter was fluffier.  It was so crispy that I ate all of them.  Anyway, it was obvious that I also love shrimps eversince even I was allergic to it.  Sorry, can't get over how succulent the taste is!
Camaron Rebusado – P 180.00
Overall, me and hubby enjoyed our first food exploration in Batangas City.  We love the whole experience!
Price of the food were all affordable and ambiance of the place is so inviting.  Even we were hungry then, we cannot afford to finish them all because of the huge servings.
We even bought some of the food home for the kids and like us, they enjoyed the fried rice and chicken.   They even told us if they knew that we will be eating out, they would have join us. LOL! It was surely their lost.  Poorly, they missed our invite.
Restaurant Location:  
Address: Gulod Labac, Batangas City near SM Batangas
Telephone No" (043) 984-0808
For more information, check their facebook page: http://www.facebook.com/wanam.sabukid