You can complete the Minion set before everyone else by pre-ordering Happy Meal from June 15-20
Hubby and I were collectors of Happy Meal ever since – remembering some of it like Snoopy, Disney Character Movies and even Hello Kitty that until now displayed to my kiddos' bedroom. Maybe there's something sooo cute that even adults find hard to resist once you complete and put them in a row.
This give me an excitement as McDonald's reveals that the much-loved small, yellow, goggled Minions will soon return in every Happy Meal.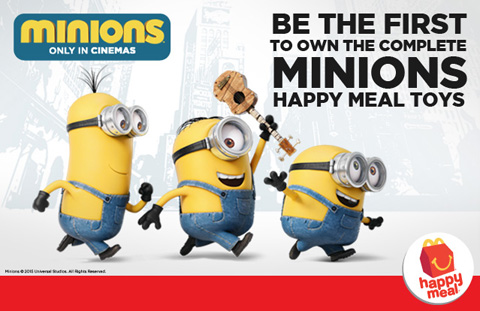 Making their comeback extra special, customers can now pre-order the complete Minions Happy Meal set in all McDonald's store nationwide starting June 15. No need to wait for another day just to get one.
Guess what, when hubby knew about this, he rushed up to the nearest Mcdonalds' store and got those coupons ASAP.
How to avail:
Visit any McDonald's store from June 15-20.
Pre-order the complete Minions Happy Meal set in the front counter of a McDonald's store.
For only Php 949.00, each pre-ordered Minions Happy Meal set includes Claim Stub and these food:
Four (4) Burger McDo with fries Happy Meals
Two (2) Chicken McDo Happy Meals
Two (2) McSpaghetti Happy Meals
Two (2) Burger McDo Happy Meals
Note: Food stubs may be used upon purchase or until August 19 and can be redeem at any McDonald's store starting June 25 before the Minions toys are available individually in store.
Update:
Last Saturday, we attended McDonalds Family Day w/ Minions which is such a happy feeling. Well spent yet soo cute parteey.
Seeing those lovable characters, holding them will surely melt your heart's out.
I know my kiddos are already teen-agers but when they got hold each one, they screamed Ba-nnna-naaaa! LOL!
To get the full experience also, starting June 26 Minions-themed desserts will also be featured:
Honey Banana McFloat topped with vanilla soft serve.
Banana McFlurry with Oreo mixed with Oreo bits in vanilla soft serve
Banana Crumble Mcflurry made with crushed graham and banana flavor
Banana McDip, soft serve covered in banana-flavored dip on a blue wafer cone
Overall, the taste of these desserts were smooth, creamy and healthy yet too sweet for me. Still, my kiddos were happy especially those bits of Oreo and Graham.
To share their cuteness and those who really love Minions, we will be giving away one set of Minions for you.
How?
This will run from June 22 – 30 starting today. Winner will be announce on July 1, 2015.
You can also enter as many photos/entries for more chances of winning via raffle. This is only open to all Metro Manila residents and will ship the box to the winner.
Easy-peasy and good luck!
Again, do also collect those Minions Happy Meal. We just did!
Winner via Random Name Picker as putting all entries is:

Congrats, congrats! I will send you a message for your home address to deliver the box.
Thanks for those who participated and more giveaways to come.
Again, for more information, visit happymeal.com.ph, like the official Facebook fan page at www.facebook.com/mcdo.ph, or follow @McDo_PH on Twitter and Instagram.