With Jollibee, Christmas is truly the spirit of giving which made it more meaningful bringing joy to everyone.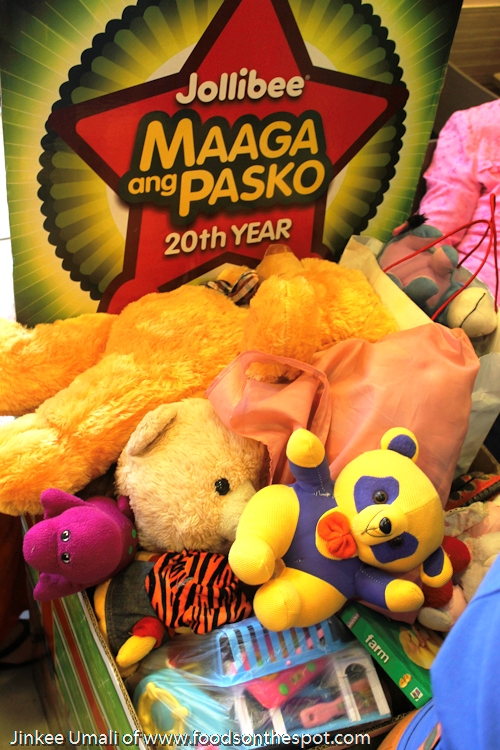 Toys would always be the favorite gifts of children every Christmas no matter what.
I remembered my two kiddos when they were still young, tons of toys from their grandparents, friends and relatives were too much then.  What me and hubby did were to give those most loved toys to Jollibee everytime "Jollibee Maaga ang Pasko" signal the start of their campaign.   We make it a point to support it every year.
It is not only the purpose of recycling those toys but also to let my kids know that there were other children around who would gladly love their toys even it was already used.
Gladly, we were invited by Jollibee to witness also their 20th year together with original Toy Scout Aga Muchlach who also spearheaded this act of giving.  Best part, this is near our place held at Jollibee Canlubang.
The country's leading fast-food chain, Jollibee is celebrating a jollier, happier early Christmas celebration with the star-studded launch of its 20th Maaga ang Pasko, the company's annual toy and book drive.
Activities include were:
Re-arranged version of the Maaga ang Pasko theme song, which was made more upbeat and livelier by  Lumen Anima Chorale who serenaded the guests with their all-time favorite Christmas songs.
Aga proceeded to drop his personal toy and book donations in the Maaga ang Pasko collection box.
This was then followed by the Jolly Toy Scouts members who went around the room to collect toys and books from customers who trooped to the event.
The Maaga ang Pasko donation drive was formally launched at Jollibee Greenmeadows in Quezon City.    As an advance thank-you gesture to donors, Jollibee had The Voice Kids winners and new Jollibee Kids Club endorsers, Lyca Gairanod, Darlene Vibares and Juan Karlos Labajo, wow the crowd with their singing prowess.
The campaign also kicked-off in North Luzon with teen idol and Cheesy Bacon Mushroom Yum endorser Nadine Lustre, singing her heart out with the talented members of the choir.
"2014 marks the 20th year of our Maaga ang Pasko campaign," said Jollibee Vice President for Marketing Harvey Ong. "
Sa patuloy na pagsuporta ng ating mga Jolly Toy Scouts sa lahat ng sulok ng Pilipinas at maging sa ibang bansa, sigurado kaming magiging tunay na pinakamaaga, pinakamahaba at pinakamalaki ang Pasko ng mas maraming batang Pilipino ngayong taon."
To mark the campaign's milestone 20th year, Jollibee will be holding a record 20 caravans across the country this December wherein they will be distributing the toys and books collected from customers and JFC employees to select beneficiaries.
For almost a decade, the big pink teddy bear and Winnie the Pooh stuff toys which was pre-loved by my daughters finally got off to them.  Actually, I always told them to give it up. They refuse too.  It was just this year that both of them decided to share these toys.
Maybe the best part of it which made Christmas give more mearning where  the jolliest ever for children across the nation is to  donate their new or pre-loved toys and books to Maaga ang Pasko boxes located in all Jollibee stores nationwide.
To make an online donation, visit www.jollibee.com.ph and click on the Maaga ang Pasko microsite.