My first day in Cebu last Sunday, Nov. 9 is to just rest inside the hotel and watch Pacquiao fight via television.  I have to recharge as my asthma attack with this changing weather is getting worst and the best thing to do is just to take time and rest.
I love my stay with Summit Circle Hotel here in Fuente, Cebu because it is near with those noted restaurant.  One example is the Dimsum Break located in  Mango Avenue – a walking distance which good for a feverish person like me who just need a rest.
Actually, this is where Dimsum Break is originated, here in Cebu.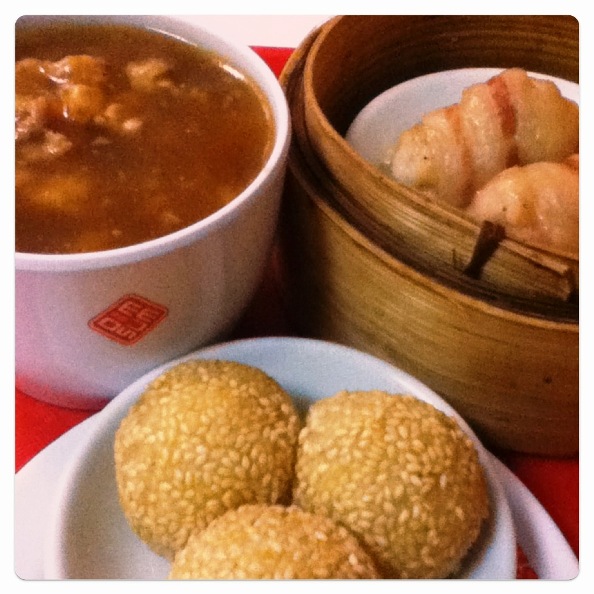 This is my favorite and complete meal –  Steamed Rice with Bacon Siomai.  For dessert, I settled for this cute  3 buchi.   I find this meal also as my comfort food yet my companion in my room munching those dessert.  All is price for P 170.00.
You can also read my full post link here as Dimsum Break is already have their first branch in Metro Manila.
I got those regret feeling where I have to go to Cebu without my camera. Honestly, cannot live without it. Anyway, have to maximize what I have, to use IPODD touch when taking pictures which I use when I took this meal.
I have the time also explore some ways to edit those pictures taken by putting some borders.
Anyway, if you have the chance to go here in Cebu near Fuente, visit Dimsum Break located at Mango Avenue.
For more information, visit their:
Website:  http://www.dimsumbreak.com/
Facebook Page:  http://www.facebook.com/DimsumBreak
Twitter Account: https://twitter.com/DimsumBreak