Kaka Restaurant generation of cuisine brings out the natural goodness of fresh ingredients use just like returning the time of true Filipino culture food heritage.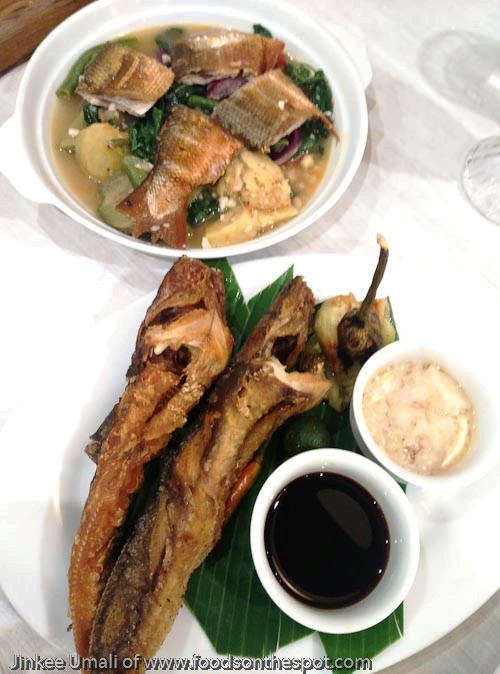 If you will read again my About page, I was born cooking at home with my mother and grandparents. Our bonding moments during weekend would be going to the market early in the morning and look for the fresh ingredients around.
My grandmother would literally bought a live chicken or hito (cat fish) and she will be the one to butcher it. That's how natural she prepared the food.
I'm trying to do it once in a while to go to the market but still, due to busy schedules even weekend prevented me to do it.
When an invite came along when I was in the metro about Kaka Restaurant, I did first the research. What entices me with their facebook page is the filipino food that I was longing – just like my grandparents prepared it.
Main Dishes:
We almost tasted almost all of ther dishes and among them, these were my favorites:
Sinigang na Isda sa Bayabas
Dinengdeng
Adobong Puset
Fern Salad
For me, the four (4) said dishes are not the common one that you can see in a typical Filipino restaurant.
Kaka restaurant hits me with the unique flavor I'm longing for a Filipino dish.
Even I'm a vegetarian on what I choose, it has a characteristic of custom cooking of doing it. A uniform taste that would let the freshest ingredients that put into it will made a flavor on its own – an inherit characteristic I may say for each food.
Some remarks with other food like:
Lavish serving of enticing peanut soup with Kare-Kare yet still I was still looking for meat and veggies.
Catfish condiments like the buro on the side is extra-ordinary indulgence and definitely I asked for more to relinquish the taste. I find the fish meat quite tough.
Sisig is a complete serving on its own having an egg already on the sizzling plate which is quite oily but tolerable.
Desserts: I was hooked with Avocado Ice Cream – the creaminess yet not too sweet made this fruit inherit its real flavor.
To others who are craving for all-time Filipino snack, a must-try are Ginataang Bilo-Bilo, Palitaw , Leche Flan and set of street foods in a big plate like quail eggs, fish ball, etc.
Bit pricey for a Filipino food when I was checking it in their menu, still the serving can be shared for 2 – 3 persons.
Maybe my take would be the presentation of each food once they serve it. Honestly, I cannot get that right angle to shoot the food to make it more appealing to eat even most of the taste are fascinating.
Yes, the restaurant is not that 5-star hotel expectation. Still, a guest can transform their eating experience enjoyable based on the appearance served to them. Presentation interlink on the taste as it flavors the expectation that stimulate more the appetite to indulge more.
We eat with our eyes first. We get more pleasure that is well-arranged in our plate.
This is a recommendation and hopefully in the near future, it can be improve more.
Again, congratulations Kaka on your first anniversary. Thanks for giving back the authentic traditional Filipino food that I longing for inherit not only to our parents but also to our culture.
Till next and anticipating for more cuisine to come.
Location:
4th floor, Bridgeway, SM Megamall,
Ortigas Center, Mandaluyong City
For more information, visit their:
Facebook Page: https://www.facebook.com/KaKaPH