"This is my invariable advice to people: Learn how to cook – try new recipes, learn from your mistakes, be fearless, and above all have fun!" ― Julia Child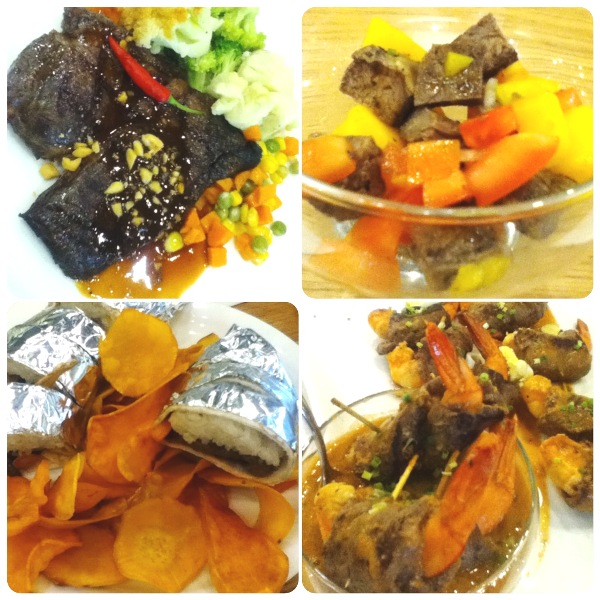 To tell you honestly, I am not a meat lover.   I am not  fond eating steak.  The reason I only eat it nor cook it because of my husband and son who always look for it once a week with a fond indulgence with meat.  They are not tired eating it either if it's a beef steak, tapa in a breakfast or sirloin steak.  I can eat a bite.   That's enough for me as long as the family enjoyed it and I have a natural iron intake.
When I was invited by Meat & Livestock Australia (MLA) at Kitchen 1B to introduce other dishes to do with beef and lamb, I have no second thought to turned it down.  Why?  It would be an extra-ordinary cooking experience to see some varieties I can serve for the family.
It's the habit that Meat & Livestock Australia's Country Manager to the Philippines and Vietnam, Mr. Peter Paul Perez to revolutionize when he launched the consumer-based program Let's Meat Up.
Teaming up with Ms. Malou Perez Nievera, Filipino food proponent & entrepreneur, culinary teacher and the creative force behind the blog Skip to Malou, developed recipes of Aussie beef and lamb that are healthy, delicious and easy to do.
Listening and watching her how to cook reminds me of Ms. Julia Child's quote.  Yes, she is fearless trying those new recipes but most especially she's excited to share it to us.  What makes it special is to include her loved ones every time she prepares a meal.
Best part when I was reading the menu to be prepared, I found veggies and seafood that can combine with beef and lamb which made me very enthusiastic to take down notes ready for future cooking tips.
Sharing the five dishes and the recipes that made our lunch day not only sumptuous but an indulgence.
1.  Australian Beef Sirloin with Hoisin and Fish Sauce Reduction
Sirloin cut is considered one of the leanest part.  That's why it cooks very quickly.  I am more on the medium rare preferences that made this roast tender cut of  meat achieve it as I want to be.  Together with those aromatic sauce makes it a perfect main dish.
Mango Tango Australian Beef Tenderloin
Mango Tango for me is a sweet cocktail for drinks.  Little that I knew this can be applied for Beef Tenderloin.  Among the five dishes that was served, this was a hit for me.  The combination of mango with a hinge of fish sauce and vinegar are tangy sweet combination.  Now I have an additional recipe if ever I got leftover beef since I always mixed them with chow fan rice.
Sesame Meat Balls
One thing I learned here – meatballs can be baked rather than going to traditional way of frying it.  I thought making Aussie beef as meatballs can be tough when eating.  It's not.  Still, the juicy and beefy flavor is visible in taste.
Breakfast Tapa Burrito
Another left-over idea is to make a burrito out of this beef aside from  the Mango Tango dish.  My family  also is always tired of "Tapsilog" in the morning.  This kind of dish can be a twist on the regular meal.  It can also be a brunch or on-the-go meal which give me an idea when we were rushing up in the morning.  Usually, if I do not have time to cook, we usually settle for breakfast fastfood drive-thru.
Australian Beef Wrapped Shrimp in Chili Garlic
Second to Mango Tango, this seafood dish is my favorite also.  Even I was already quite full, I will not skip to relish this astonishing meal. The immense taste of beef and shrimp makes a splendid palatable delight.
Now I am excited to cook them one by one once I go home.  My hubby who were also with me gives already a head start on the meal to prepare for the coming weekend especially my son will be visiting us soon.  That is how he was eager or "matakaw" in simple word.  Sorry lang, he is unleashing those carnivore attitude again.  LOL!
Again, thanks to Ms. Malou for introducing these various lavish yet practical way of cooking beef which me can now appreciate the natural goodness with easy-to-prepare dishes.
As we ended the session, Mr. Perez announced to expand reach of Let's Meat Up to the social media scene.   Definitely, this will not be the last of it.
For more information, follow them on Facebook page at www.facebook.com/letsmeatup.