You know that Christmas is around the corner because of those malls who started their displays as early as November. The same also with cafe and restaurant which offered holiday themed desserts and merchandise for this Yuletide season like Figaro.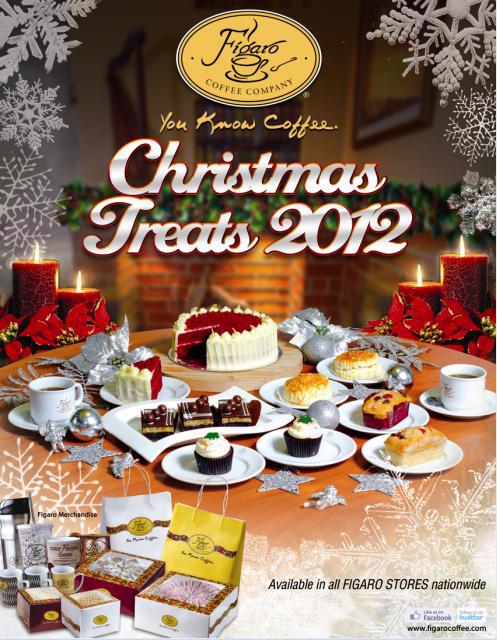 There's something so beautiful about this Red Velvet Cake for the Christmas season.   Soo divine!  The bread is so moist  and rich in taste.  The white frosting is also thick in texture.  Among the Figaro pastries, this is my favorite.

Red Velvet Cake P 110.00 per slice
I included this cupcake shot in my gallery as I adore the design.  Love the topped green star and those golden tiny small round of candies around.  It is actually a chocolate cupcake with white frosting.   The taste has this light chocolaty melt-in-your mouth yet so  soft.  The white frosting  has this silky smooth, light but not so sweet but not overpowering the cake.
Christmas Cupcake P 80.00
 Yup, triple chocolate –  chocolate fudge bar topped with rich chocolate frosted icing with chocolate ball toppings.  Chocolaty rich!  Definitely, this is not good for my waist line. LOL!

Triple Chocolate Toffee Bar P 95.00
Eversince, I love scone especially if I partner this bread to my coffee. Others will find it a hard bread but for me, I love the light sweet and its savory taste.
For gift suggestions, merchandise items are also available for grabs.
From left to right, the Frosted Tumbler (price is P 200.00) is an acrylic tumbler with jelly frost.  The Magic Mug  (price is P 209.00) is in colored full black but once you put hot water inside, the design will come up.
The Artisan Mug  (price is P 495.00) which for me is a bit pricey got this embossed log.  I want this Premium Tumbler (price is P 420.00) – a stainless steel mug where I can put my coffee longer and still hot.
There you have it, the Figaro Christmas Treat for 2012.  Definitely, one can feel the Christmas more with this great goodies around!
For more information, visit their:
Website:  http://www.figarocoffee.com/
Facebook Page:  https://www.facebook.com/figarocoffeecompany